FEATURE STORY
Inequality in Latin America falls, but challenges to achieve shared prosperity remain
June 14, 2013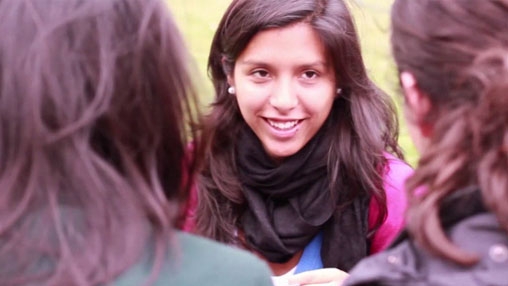 STORY HIGHLIGHTS
New World Bank goal aims to eradicate poverty and boost prosperity by 2030.
In 2011, for the first time ever, more Latin Americans were part of the middle class than living in poverty.
However, standards of living within countries still differ wildly, presenting a key challenge for the region.
As the rise of Latin America's middle class brings the region closer to more widely shared prosperity, a report warns that without a new set of reforms, both fiscal and social, those advances risk falling by the wayside.
Consider the following.
In 2011, more people were part of the middle class in Latin America than living in poverty.
For the first time ever, a decade of strong economic growth within the region saw employment increase and wage inequality drop, contributing to an unprecedented reduction in poverty and an increase in prosperity for all levels of society.
These are just a couple of the findings of a new report, Shifting Gears to Accelerate Shared Prosperity in Latin America and the Caribbean, launched today.
Underscoring the World Bank's new twin goals of eradicating extreme poverty and boosting prosperity for the bottom 40% of the population by 2030, this new report proposes a framework to help Latin America stay on track as well as speed up future gains.
Boosting prosperity
Not only has employment increased, but average real incomes in Latin America have also risen by more than 25% since the turn of the millennium. And with the lowest wages increasing considerably faster than the regional average, it has been the poorest 40% who have benefitted the most.
As one of the most unequal regions in the world, strengthening this link between growth and wage equity will be crucial if Latin America is to continue making strides towards shared prosperity.

Equity-oriented policies can enhance a region's capacity to grow in a sustained manner.

Shifting Gears to Accelerate Shared Prosperity in Latin America and the Caribbean

In fact, the report states, that if the region were to take this opportunity to enshrine income equity into the political agenda, not only would standards of living be raised, but it would also further spur growth.
"Equity-oriented policies can enhance a region's capacity to grow in a sustained manner. Enabling people who are currently marginalized to improve their living conditions will unleash their inherent economic potential, increasing overall productivity and thus spurring growth."
For this upward trajectory to be achieved, the report puts forward four key policies:
Maintaining an equitable, efficient and sustainable fiscal policy that fosters shared prosperity.
Strengthening fair, transparent institutions that deliver quality public goods and services.
Enabling an environment of well-functioning markets that are accessible for all economic levels of society.
Improving risk management at both the macro- and household levels.
Challenges
Around 80 million people in the region still live in extreme poverty – of whom half are in Brazil and Mexico - with a further 40% of Latin Americans at risk of falling back into poverty in the event of economic shocks or due to the effects of climate change on the region.
Consequently, with global tides changing and favorable economic winds subsiding, Latin America faces a daunting challenge.
Even if current levels of growth were maintained, the report warns it would take 41 years for the region to close the gap in wage inequality with global top performers, missing the 2030 target by 24 years.
And the picture gets yet more complex when looked at a subnational level (states and provinces), where standards of living differ significantly depending on where in the country you live and your level of education.
Today, a number of countries in the region are now focusing on reducing this gap. But while the report recognizes the gains, it reinforces a need for second-generation reforms to underpin what it describes as "the virtuous cycle" of economic growth and reforms to foster shared prosperity.
But with a modest global economic outlook for the coming years, achieving the goal of ending extreme poverty within a generation as well as promoting the well-being of its poorest and most vulnerable citizens looks to be a significant challenge for Latin America.