FEATURE STORY
Students Push Boundaries and Explore Dreams in Model School
May 17, 2013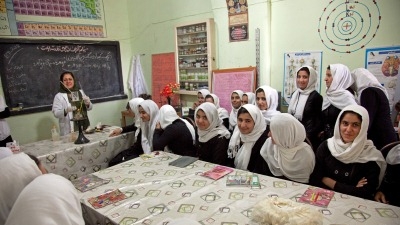 STORY HIGHLIGHTS
In the ancient city of Herat, girls are returning to school, encouraged by their parents and community, to educate and empower themselves.
The Female Experimental High School is one of 787 schools in Herat Province that is helped by the Education Quality Improvement Program (EQUIP), supported by the World Bank and ARTF.
"Not to be born is better than being without knowledge and learning…" says a sign at the school.
HERAT, Afghanistan – She may live in a conservative Afghan city known for ancient poetry and cultural pursuits, but 16-year-old Parisa Rahmati clearly isn't afraid to sound modern. "I want to write poetry too," Rahmati announced recently before a room packed with parents, community elders, her high school principal and fellow students.
"But I think it's important to write about girls' rights, about the problems they face, especially if their families don't let daughters attend school. There can be no good reason for this if we truly follow the teachings of Allah," she says.
Looking on, principal Basira smiles back with approval: "Yes, welcome to Herat's Female Experimental High School. Here, we encourage such strength and independent thinking in our young women."
It wasn't always like this. In fact, just a decade ago in this city, 100 kilometers from the Iranian border, Taliban forces forbade all young Afghan women from attending school. It was a harsh fate in a place that straddles the ancient Silk Routes, and is famously recognized as a center of the arts. An old saying promises: "In Herat, if you stretch out your feet, you are sure to kick a poet."
But in recent years, with help from the Education Quality Improvement Program (EQUIP), a Ministry of Education flagship program supported by the World Bank and Afghanistan Reconstruction Trust Fund (ARTF), schools like Rahmati's have risen again to educate and empower another generation of students, particularly girls. In the province of Herat alone, EQUIP has helped finance 787 schools.
Parents care about education
Principal Basira still remembers the early rebuilding days vividly. "In 2003, we had thousands studying in tents with no power, no water, no proper buildings," she recalls. "The facility we have now is proof the parents and community care about education. There is no problem having girls go to school."
Basira is one of many dedicated teachers who risked her life to follow this maxim. She ran a 'secret school' for about 100 students during the Taliban era, disguising academics as embroidery and tailoring classes.
Now her school offers a full range of courses to about 4,000 girls who attend in three daily shifts. The school is designated 'experimental' because it's a model facility for others in the region, and a place where trainee teachers practice their profession.
Each day, the arrival of students begins with a whirl of dark patterned cloaks called 'chadar namaz,' as girls uncover their black and white school uniforms tucked underneath.
"Here we are free to be ourselves, but we also must respect tradition," explains Basira. This is a message that she and the school council pass on in countless ways. On the walls of the compound, neatly arranged with trees, flowers, playground equipment and volleyball courts, are plenty of painted reminders of religious teachings, health advice, biology diagrams, and more poetry.
"Not to be born is better than being without knowledge and learning because ignorance is the base of all adversity," says one sign.

The facility we have now is proof the parents and community care about education. There is no problem having girls go to school.


Basira Basiratkha
Principal, Female Experimental High School, Herat
Grade 12 student Muzhgan Saddiqi, 17, says she most enjoys her religious studies at school, but is sad some insurgents have used Islam's teachings to incorrectly suggest girls shouldn't be educated. "Actually, the word of the Prophet Muhammad (Peace Be Upon Him) obliges men and women to go to school, but because some people are enemies of society they just don't want such improvement."
Shakeba Haidari volunteers on the parent council because she's eager for her two girls to have a better education than she did. "Some people who didn't go to school can't read phone numbers, write or find an address. They can't even read street signs or follow a doctor's instructions – they really, really regret it," says Shakeba.
One recent graduate, Marzia Rahmani, 18, now returns to the school to give classes to illiterate parents. "This is necessary to ensure that we don't waste people's potential," she says, "And besides, we are having so much fun learning together."
Help to build up school
Classrooms at the school bustle with purpose. In a computer laboratory, about 20 girls sit in front of brand new terminals, some funded through EQUIP, others donated by parents. The class teacher had paid for one month's internet service.
"There's a feeling here that everyone wants to help to build up this school," says Basira.
In a chemistry laboratory, teacher Mary Rahmami demonstrates oxidation with flaming Bunsen burners, beakers and various crystals.
"It's just so amazing to see how things are created," comments student Hasiba Rahmati.
Down the hall, past more student artwork and delicate examples of glass painting, a physics class watches a teacher use mirrors and light to create refraction. "This is how it works in cinemas, and in theatres," she explains to students, although movie houses have yet to reappear in Herat.
Looking on, principal Basira says she is happy to see students pushing boundaries and exploring dreams. "This is what education is all about."