FEATURE STORY
Brazil: Salvador Residents Saving Nature And Local Traditions
March 2, 2013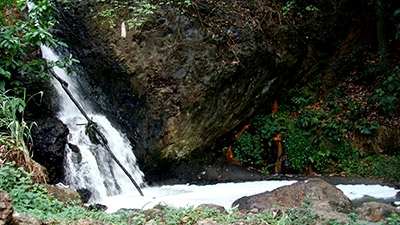 STORY HIGHLIGHTS
Salvador's rainforest preserve Sao Bartolomeu is being regenerated.
Four neighborhoods, 200,000 people will get upgrades.
Project emphasizes green sustainable development while preserving local traditions.
In Sao Bartolomeu, the vast rainforest reserve in northern Salvador, the waterfalls are bubbling more than before. As a matter of fact, the whole park is in high spirits since humans have become more respectful of the environment, say practitioners of Candomblé, a time-honored religion praising the "spirit" in nature's beings and objects.

Park residents and Candomblistas settled here are a few of the 200,000 people expected to benefit from Dias Melhores (Better Days), a World Bank project to preserve Sao Bartolomeu while providing sustainable infrastructure, homes and social services for people living in the reserve and surrounding areas -- most of them highly exposed to constant flooding and life-threatening landslides. About 1,030 families are currently being resettled.

Oshun, the Goddess of Beauty and Waterfalls presiding over the 155-hectare expanse, has not yet seen the full benefits of Dias Melhores, but her priests say they are already noticing meaningful change.

"I guess she's less than happy these days," says Priestess Dona Vilma (née Maria Ventura da Silva). "Look at these plastic flowers on the shore; they are offered as a gift to the orisha, but they pollute the water too."

Dona Vilma – who lived, worked as a janitor, and managed a Candomblé temple for 35 years at Sao Bartolomeu – witnessed the environmental degradation of the park. Now the 58-year-old priestess acknowledges the improvements as the area begins to recover.

Once completed, by year's end, Better Days will have benefitted four low-income neighborhoods but the impact is already being felt. So far results include:
1,000-plus households have been relocated from high risk areas
500 households are being provided with land titles
777 households have benefited from new or improved housing units with others underway

We want to make sure they keep performing their rituals here without harming the environment.

Carolina Homem
Social Development Coordinator, Better Days project
Safe houses
"I have lost my furniture countless times, I have seen so many people dying of diseases caused by flooding, but I didn't have enough money to move from the park," recalls another Candomblé priestess, Cícera Silva. "I love my new house, it's so safe."

Like Cícera, these families are moving to 1000 new houses and apartments nearby where they will have access to water, sanitation, and electricity. Those who didn't want to move to the condominiums were offered a financial compensation enabling them to buy a new house elsewhere.

Other buildings and businesses are moving away from the area too. Among them, the Candomblé temples managed by Cícera and Dona Vilma, as well as the food court which operated in the area.
A local day care center will be transferred to a more spacious building and will offer Arts classes and tutoring for 200 children (from 2-12 years).

In addition, three multipurpose community centers, as well as sports facilities, are being built around the park.

Preserved rituals

Following resettlement, the park will get many upgrades and improvements, including a cleanup and gardens will be replanted. Also, a footpath – which will enable people to explore the park more easily – is already under construction.

For enhanced safety, the park will be fully fenced and police officers will be stationed throughout.

In addition, the government of Bahia is gearing up to discuss a new park management plan with the community, especially with Candomblé practitioners.

"We want to make sure they keep performing their rituals here without harming the environment," says anthropologist Carolina Homem, Social Development Coordinator for the project.

Oshun will most certainly be invoked by the Candomblistas the time of debate. The beautiful "orisha" is believed to reign not only over waterfalls, but also over diplomacy.