FEATURE STORY
Latest Development Marketplace to focus on Rural Egypt
November 6, 2012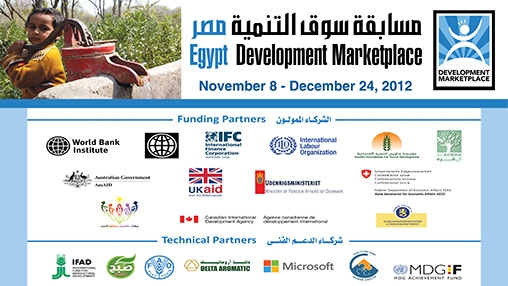 Development Marketplace Now Accepting Submissions
Have a social enterprise that is worth scaling-up to improve the lives of people living in rural areas of Upper Egypt?
The Development Marketplace (DM) wants to hear from you.
The DM program, housed in the World Bank and administered by the World Bank Institute, and funded by various partners has, since its inception in 1998, awarded more than US$60 million grants to more than 1,200 innovative projects.
Each social enterprise is identified through an open and competitive submission process. Applications go through rigorous, merit-based scrutiny by panels of development experts from inside and outside the World Bank. Every DM has a specific theme or sector and draws applications from a range of social innovators and entrepreneurs.
For this particular DM, the World Bank and its partners have committed $1.4 million, to be awarded to civil society organizations and businesses that are part of the agriculture supply chain, such as those in the food processing, agricultural waste management, handicrafts, and other domains in the rural economy.
Apart from funding, successful organizations will also be eligible for a wide range of advisory support. The International Finance Corporation (IFC), a member of the World Bank Group, will offer training on critical issues such as corporate governance and environmental management. Technical support will also be available from Egypt's most prominent companies, foundations, and international organizations.

So what are you waiting for? Let's get those ideas flowing!

Submitting an Application
The ground rules are straightforward. The DM is open to organizations that have been operational for at least two years. These can be legally registered as companies, non-governmental organizations, foundations or cooperatives , but not individuals, governmental or academic institutions.
Funding requests should be for no more than 150,000 Egyptian Pounds (equivalent to US$25,000).
The judges will be looking for organizations and projects that have a potential for scaling-up and replication, with the clear prospect of an expanded social impact and increased job creation. Finalist organizations will be eligible for four capacity building workshops while DM winners will receive on-going capacity building and mentoring services until the conclusion of the Egypt DM program in June, 2014.
Partners
The competition was made possible with the financial support of local and international partners, in addition to partners who would provide on-going capacity building and mentoring services for the winners during the duration of the Egypt DM Program. Partners who committed financial support:
· AlKorra Foundation for Sustainable Development (Egypt)
· Sawiris Foundation for Social Development (Egypt)
· Australian Government Overseas Aid Program (AusAID)
· Canadian International Development Agency (CIDA)
· The UK's Department for International Development (DFID)
· International Labour Organization (ILO)
· Ministry of Foreign Affairs of Denmark
· Ministry of Foreign Affairs of Finland
· Swiss State Secretariat for Economic Affairs (SECO)
In addition, the Egypt DM at large and the winning social enterprises will benefit from guidance, advise and technical support from a number of high performing organizations, including but not limited to;
· Ashoka
· Center for Development Services
· Egyptian Network for Integrated Development (ENID)
· Etijah
· Food and Agriculture Organization (FAO)
· International Fund for Agricultural Development (IFAD)
· Pro-poor Horticulture Value Chain in Upper Egypt (Salasel)
· Research Development and Innovation Programme (RDI)
· Sobh for Food Industries and Coldstore
· Social Contract Center (SCC)