FEATURE STORY
Bringing Music Back to Afghanistan
September 19, 2012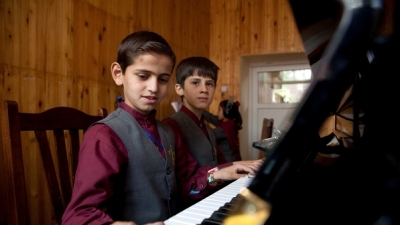 STORY HIGHLIGHTS
The Afghanistan National Institute of Music teaches Afghan and Western music – once banned by the Taliban – to 150 boys and girls, including orphans and former street children.
The World Bank is supporting the school as part of its Afghanistan Skills Development Project, which supports vocational education.
The school's orchestra will perform in New York's Carnegie Hall and the Kennedy Center in Washington, D.C., in February 2013.
Twenty-one-year-old Hojat initially fell in love with the violin listening to music at the movies. But his dream to become a soloist and play with an orchestra was almost stopped in its tracks.
Music was banned under the Taliban regime in Afghanistan. "Music was considered satanic," Hojat explains. "If you play, people call you bad names." But no longer. Hojat, along with 149 fellow students, is working toward making his dream a reality at the Afghanistan National Institute of Music (ANIM).
"Music is an international language," says Hojat, who is a fan of all kinds of genres, from the classical works of Chopin to rockers Nirvana and the Foo Fighters. "When musicians come together, they don't think about religion. I want to show the people of the world our music as an introduction to everything about ourselves and our country. "
Driving down the dusty, traffic-clogged streets of Kabul, passing through the heavy iron gates that guard the compound, visitors enter an idyllic sanctuary where the sound of music wafts through the air.
Fourteen-year-old Nagina came to the music school from an orphanage in Kunar. She sits cross-legged on the floor, surrounded by hanging musical instruments and playing the sarod, a traditional stringed instrument.
Nagina smiles serenely as she plucks at the sarod, which is almost as big as she is, and music fills the room. In only four months of training, she has mastered the intricately carved wooden instrument, and she strums confidently. "When I'm playing music it gives me happiness," she says.
Nagina says she hopes one day to teach other girls to play. The school started with one girl attending when it was inaugurated in 2008. Today there are 35.
The life force behind the ANIM is its music advisor and project director, Dr. Ahmad Sarmast. The institute offers children an academic education, with classes in math, geography, and language, combined with training in both Afghan and Western musical traditions.

Music can be a strong tool for bringing about social change and development. Music teaches them how to listen to each other, how to communicate with each other, how to respect each other. If they can play in an orchestra, they can live harmoniously in society as well.

Ahmad Sarmast
Founder and director, Afghanistan National Institute of Music
A chance encounter with a World Bank consultant and a passionate lover of the arts, Bappaditya Chakravarty, gave Sarmast the idea that he could seek assistance from the Bank for the school. "Meeting Dr. Sarmast was a coincidence that I shall forever treasure," says Chakravarty. "Today, whenever I go to the school I feel as if the future of Afghanistan is portrayed by those bright, young, talented and hopeful faces. That for me is the greatest gift from Afghanistan."
When World Bank Senior Economist Venkatesh Sundararaman was first approached to provide support to the institute as part of the Afghanistan Skills Development project by the minister of education, he was doubtful. But that evening, he went home after a long day's work and found himself relaxing by listening to music.
"I went back to the minister and said, 'First, I have to remove my foot from my mouth,'" he recounts. "I realized how music is an important part of Afghan culture and that we should support this." He also adds that the role of the government of Afghanistan has been crucial.
"This music institution would not be a mini-global success had it not been for the incredible support provided by Minister of Education H.E. Farooq Wardak. He provided institutional space by granting autonomous status to ANIM, and perhaps more importantly, the personal space in which Dr. Sarmast could work without the typical bureaucratic shackles that you tend to find. If the minister had not adopted this laissez-faire approach to management, we might have very well been left with another great idea that did not materialize" said Sundararaman.
ANIM is committed to working with orphans and vulnerable children to give them a vocation and provide them with the skills they need to become professional musicians.
"Many of the children are street children who've had very little education in the past with no real opportunities to become productive members of society," says Amit Dar, World Bank sector manager for education in South Asia.
"These children have grown and blossomed in a very short period of time," agrees Samantha de Silva, World Bank human development country sector coordinator for Afghanistan.
Sarmast believes music has the power to heal to ease the trauma and grief of the students who have lived through the conflict in Afghanistan.
"We are trying to show the world that music can be a strong tool for bringing about social change and development," Sarmast says. "We strongly believe that music can play a pivotal role. Music teaches them how to listen to each other, how to communicate with each other, how to respect each other. If they can play in an orchestra, they can live harmoniously in society as well."
Hojat agrees that music can play a powerful part in helping to rebuild his country.
"I want a future for Afghanistan," Hojat says. "We lost everything in the three-decade war. I want to be a part of rebuilding my country."
Sarmast left his family and a comfortable life in Melbourne to dedicate himself to developing young Afghani musicians. He himself received his doctoral training in music from the former Soviet Union with a scholarship provided to him through the Afghan government and wanted to give back.
"Music is not only a tool for art, but also a tool for healing this broken nation," he says. "It's payback for the scholarship for my music education. It's my contribution to the rebuilding of this nation. What we have achieved here in this very short time is the greatest reward that I can get."
ANIM, the U.S. government and the World Bank are working to bring these young artists to the United States. Fundraising is under way to raise money for ANIM concerts at New York's Carnegie Hall and Washington's Kennedy Center in February 2013. South Asia Vice President Isabel Guerrero has committed regional support for the trip.
"This is a period of transition for Afghanistan," said World Bank Country Director Robert Saum. "ANIM is teaching a new generation of young Afghan musicians the value of music and their country's rich cultural heritage. Music is the international language of peace."