FEATURE STORY
Rural Women Start Small, but Dream Big
August 22, 2012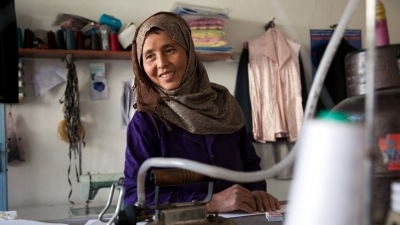 STORY HIGHLIGHTS
About 80% of Afghanistan's population lives in rural areas and is dependent on agriculture and livestock occupations.
The Afghanistan Rural Enterprise Development Program, funded by the World Bank and the ARTF, is helping develop rural small and medium businesses through microfinance and technical assistance.
Masooma Ibrahimi's tailor shop is one business that is benefiting from the program.
Start small and dream big. This is Masooma Ibrahimi's plan for her tiny tailoring shop tucked away in rural Afghanistan.
"It's my dream to have a big company selling clothes all over Afghanistan and someday all over the world, so I can employ lots of poor women who need this work, and together we can teach others, too," explains Ibrahimi, 25, while maneuvering her solar-powered sewing machine in a village outside Bamiyan.
Mohammad Elyas Haidari, a business development officer with the Afghanistan Rural Enterprise Development Program (AREDP), says there are countless women like Ibrahimi with this drive to succeed. All they need is more help with concrete business plans, advice on marketing, strategies for small business loans, and other technical assistance.
"This is why we're here," said Haidari. "We want to work with these people to help them identify opportunities to profit and grow their businesses. This will put these ladies, their families, and this country back on its feet."
About 80% of Afghanistan's population lives in rural areas and is dependent on agriculture and livestock occupations that contribute an estimated 53% of gross domestic product.
Ibrahimi's business is one of the nearly 200 small and medium enterprises under AREDP, which is part of the World Bank's effort to encourage more commercially oriented, off-farm employment that increases job opportunities and incomes for people in Afghanistan.
To date, AREDP, which is co-financed by the Afghanistan Reconstruction Trust Fund, is working in 341 villages. There are more than 2,500 savings groups and 87 enterprise groups, with over 31,000 active members (47% female). These members have collectively saved more than Afs 35 million, which they loan to each other. From December 2011 to March 2012, the number of borrowers increased from 1,014 to 2,550.

It's my dream to have a big company selling clothes all over Afghanistan and someday all over the world.

Masooma Ibrahimi
Co-owner, Poshak-e-Jawanan, or Youth Clothing, tailor shop
Business tailored for women
Ibrahimi's family left Afghanistan during the Taliban era, when roving bands of men shot and killed hundreds of their neighbors in Bamiyan province because they were Hazara, an ethnic minority of Shiite Muslims.
Ibrahimi was too young to remember the family's flight, first to Pakistan and then Iran. But it was during these years that she married, at age 15, and learned tailoring from her husband, Haider Ali.
In 2010, the couple moved back to the village of Mullah Ghulam, in the shadow of Bamiyan's famous "Dragon Valley," an undulating mountain ridge that spews water down its steep gray slopes. Each day, the dragon inspires Ibrahimi to be strong and fearless.
"Women in other countries have a lot of facilities and choices, but here we don't have anything yet. We are poor and can't get jobs, but we want to show that Bamiyan women are not less than other women in the world," she says.
At first, her husband wanted to start a tailoring business for men, but it was Ibrahimi's idea to create women's clothing made by village women, and call their business "Poshak-e-Jawanan," or Youth Clothing.
"This is better because it is harder for females. They need this help," she explains. So far, the couple has hired four women. Together, they're learning to cut out patterns and sew blouses, suits, and the long black coats worn by women here, who must cover themselves from head to toe.
A better future
Smoothing wrinkles from a half-assembled sleeve, Gulchaman, 28, says she was "just staying at home with nothing to do," before she heard there was tailoring work. Her husband, an agricultural laborer, is so proud of her new skills and earnings, "sometimes, when he doesn't go to work and I do, he even makes tea for me when I come home," she says.
Gulchaman dreams of opening her own tailoring business one day. So far, the only thing that challenges her is the shop's temperamental iron, which sometimes shoots flames from its gas cylinder attachment. "Who knew this could be dangerous work?" she laughs.
It's clear the five women enjoy the camaraderie they've found at the shop. In a culture that doesn't often encourage women to leave their homes, the business offers stimulation and a refuge, says Sughra Mohammedi, 22.
Her husband is working in Iran as a laborer, and she would normally be expected to stay in the house if it weren't for the tailoring opportunity, she said. But now, she's earning about 4,000 Afghanis ($83) a month, and contributing one-third of her family's income.
"I hope to improve in my work and have a better future," said Mohammedi.
Currently, the tiny enterprise has several challenges, said Ibrahimi. They would like to expand and hire more workers, but can't afford the one-year deposit needed to rent a bigger space at the town bazaar. They also hope to expand their markets by attending exhibitions in other provinces, and onward to India and Pakistan.
Haidari of AREDP says he is completing an assessment of the shop's progress, designing a business plan and finalizing a strategy with them.
"We are helping them to identify all these opportunities, as well as explaining how to get small business loans," said Haidari. "We want to help them follow this dream."