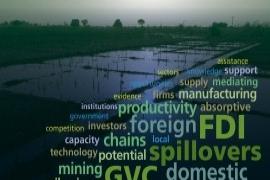 Making Foreign Direct Investment Work for Sub-Saharan Africa
March 19, 2014
Washington, DC
This new book presents a groundbreaking study that explores the question of spillovers from foreign direct investment (FDI), a vital issue for many developing countries. The research draws on detailed field research in eight countries (including five in Sub-Saharan Africa) and across three sectors: agribusiness, apparel, and mining. The book presents a summary of the results and discusses their implications for policy makers hoping to harness the power of FDI for better development.
Book Discussion
Time:

12:30 p.m. to 2 p.m.

Location:

Room J-1050, 701 18th St NW, Washington, DC

Contact:

Amir Fouad: afouad@worldbank.org
Thomas Farole, author
Thomas Farole is a senior economist in the World Bank Africa PREM department. He is the author of Special Economic Zones in Africa and the editor of Special Economic Zones: Progress, Challenges, and Future Directions (with Gokhan Akinci) and The Internal Geography of Trade: Lagging Regions and Global Markets. His recent articles have appeared in the Journal of Economic Geography, Progress in Human Geography, and World Development.
Deborah Winkler, author
Deborah Winkler is a consultant economist in the World Bank's International Trade Unit and also serves as a research associate with the Schwartz Center for Economic Policy Analysis at the New School for Social Research. She is the author of the books Services Offshoring and Its Impact on the Labor Market and Outsourcing Economics: Global Value Chains in Capitalist Development (with William Milberg). Her recent articles have appeared in World Development, the Journal of Economic Geography, and World Economy as well as in edited volumes of the World Bank, the International Labour Office and World Trade Organization, and the Oxford Handbook Series.
Professor Theodore H. Moran, discussant
Theodore H. Moran holds the Marcus Wallenberg Chair in International Business and Finance at the School of Foreign Service, Georgetown University, where he teaches and conducts research at the intersection of international economics, business, foreign affairs, and public policy. His most recent books include Foreign Direct Investment and Development: Launching a Second Generation of Policy Research (Peterson Institute for International Economics, 2011) and Harnessing Foreign Direct Investment for Development: Policies for Developed and Developing Countries (Center for Global Development, 2006). Professor Moran is also a Non-Resident Senior Fellow at the Peterson Institute for International Economics and at the Center for Global Development.
Marcelo Giugale, moderator
Marcelo Giugale is the World Bank's Director of Economic Policy and Poverty Reduction Programs for Africa. An international development leader, his more than twenty-five years of experience span the Middle East, Eastern Europe, Central Asia, Latin-America and Africa, where he led senior-level policy dialogue and over twenty-five billion dollars in lending operations across the development spectrum. He has published widely on economic policy, finance, development economics, business, agriculture and applied econometrics. Notably, he was the chief editor of collections of policy notes published for the presidential transitions in Mexico (2000), Colombia (2002), Ecuador (2003), Bolivia (2006) and Peru (2006). His opinion editorials are published in the leading newspapers and blog-sites of Africa, Latin-America and the USA.
This event is sponsored by the Infoshop, the World Bank International Trade Unit, and the Africa Region of the World Bank's Poverty Reduction and Economic Management Network.