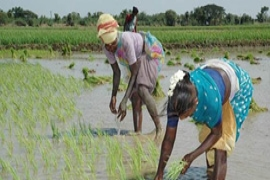 Launch Event: Gender in Agriculture E-Learning Course
January 9, 2014
Washington, D.C.
The Gender in Agriculture E-Learning course is the product of a joint collaboration between the World Bank and Michigan State University and is based on the Gender in Agriculture Sourcebook (2009), result of a fruitful partnership of the World Bank, FAO and IFAD.
This online course provides answers across different sub-sectors to the question, "How will the development outcome of my intervention improve if I mainstream gender?" The course is freely accessible to all interested in gender-related topics in the field of agriculture and rural development. It is composed of 17 modules ranging from primary production to natural resource management and access to markets and services. Each module is an independent product, so each learner can select the ones that are of most interest to him or her. Each module includes interactive elements, videos and an assessment tool. It is intended to serve as an innovative learning experience to help agriculture specialists, practitioners and the academic community to learn how to use a gender lens effectively in their work to improve development outcomes and impact. All the modules of the Gender in Agriculture E-Learning course are available here.
The BBL includes the launch and demonstration of the e-learning course, followed by remarks and a discussion among agriculture, gender and education specialists.
Welcome Remarks:
Mark Cackler, Sector Manager, AES, World Bank
Speaker:
Gwyn Heyboer Shelle, Assistant Director, Production, MSU Global

Chair:
Eija Pehu, Science Adviser and Gender Anchor, AES, World Bank

Panelists:
Thomas Pesek, Partnership Officer, North American Liaison Office, IFAD
Barbara Ekwall, Senior Liaison Officer, FAO
Natalie Elwell, Senior Advisor, Bureau for Food Security, USAID
Victoria Stanley, Senior Rural Development Specialist, LCSAR, World Bank
John Coonrod, Executive Vice President, The Hunger Project
Claire Akun Ntwali, Programme Assistant for Grants Management, RUFORUM secretariat