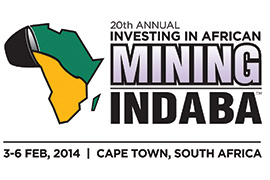 African Mining Indaba
February 1-6, 2014
Cape Town, South Africa
This event brings together representatives from government, civil society and the private sector to make progress on key issues such as sustainable development that enhance investments while contributing to poverty alleviation and shared growth.
Context:
Africa's vast mineral resources have the potential to have transformative impact on furthering growth and alleviating poverty in the region. To harness this potential, governments, industry and civil society must work together to ensure that mining plays a role in fostering inclusive growth and sustainable development.
The event:
African Mining Indaba brings together top leaders from the private sector, the international investment community and African governments to discuss challenges and opportunities of the African mining industry.
Participation:
The World Bank Group will host a series of sessions to highlight the importance of sustainable development issues such as governance, infrastructure and local content policies, among others, to promote the incorporation of these issues on the agenda of mining leaders.
In addition, high-level World Bank Group representatives will address delegates in sessions hosted by African governments and World Bank partners. For a full program of events, please visit: www.miningindaba.com
World Bank sessions at Indaba:

For more information please email, infosegom@worldbank.org
1. Expert roundtable, invitation only
Shared Mining Infrastructure: Too Good to Be True?
Hosted by The World Bank Group and the Australian Aid Programme
Sunday, February 2, 9:00am-5:30pm - Download Agenda

2. Plenary session, open to the public
Lifting the Lid on Africa's Mineral Resources: The Role of Public Geodata Services
Hosted by World Bank Group and the Australian Government
Monday, February 3, 8:30-10:15 am
Cape Town International Convention Centre (CTICC), Auditorium 2

3. Plenary session, open to the public
New Standards in Extractives Transparency: Engagement by the Private Sectors
Hosted by World Bank Group and the Australian Government
Monday, February 3, 11:00 am - 12:45 pm
Cape Town International Convention Centre (CTICC), Auditorium 2

4. Keynote speech
Tom Butler, Global Head, Mining IFC
Tuesday, February 4, 12:26pm
Cape Town International Convention Centre (CTICC), Main Stage
5. Break-out group, invitation only
The Bigger Picture: Water, Biodiversity and Sustainable Landscapes
Hosted by the World Bank Group and the World Wide Fund for Nature (WWF)
Tuesday, February 4, 2:00pm-5:00pm
6. Off-site meeting, invitation only
Attracting Responsible Mining Investment in Fragile and Conflict Affected Settings: Incentivizing "Win-Win" Deals and Practices
Hosted by World Bank Institute
Thursday, February 6, 1:00 - 4:30pm
Attracting Responsible Mining Investment in Fragile and Conflict Affected Settings
Fraser Thompson, Senior Fellow, McKinsey Global Institute (MGI)
Integrating biodiversity considerations into the mining lifecycle
Patti Wickens, De Beers Group of Companies
Liberia: Update of the Minerals and Mining Act
Mark Mattner, GIZ
Ports, roads and rail: The building of Western Australia's resource communities
Director General Richard Sellers, Western Australian Department of Mines and Petroleum
Resource Corridors, Delivering Infrastructure for Africa
Andrea Shaw, Australian Aid
Shared Mining Infrastructure: Too Good to Be True? Land, Water, and Ecosystems
Prof. Kevin Chika Urama, Executive Director, African Technology Policy Studies Network (ATPS), & Adjunct Professor, Sir Walter Murdoch School of Public Policy and International Affairs, Murdoch University.
The North/Western Growth Pole Local Content Compact (NWGP-LCC)
Implementing the Local Content Policy through collective action
Government of Sierra Leone
The Power of the Mine
Gary McMahon, Senior Mining Specialist, The World Bank
The Role of Intrastructure in Mineral Driven Development: 'The Vision for Africa'
S. Khama, African Development Bank's African Natural Resources Center
Towards an ICMM Water Strategy and Action Plan
Aidan Davy, Deputy President, ICMM
Shared Mining Infrastructure: Too Good to be True?
Pierre Pozzo di Borgo, Principal Investment Officer, International Finance Corporation (IFC)
Christopher Sheldon is the Sector Manager of the Oil, Gas and Mining Unit, Sustainable Energy Department of the World Bank with responsibility for the unit's operations in Africa, Middle East, Europe, Central Asia, East Asia and the Pacific. His goal is to support countries to develop and manage responsible oil, gas and mining industries that contribute to inclusive economic growth and poverty reduction. Prior to that, he was a Senior Mining Specialist working on diverse projects throughout Africa and Asia. Before joining the World Bank, Christopher worked in mines and lived with communities in Papua New Guinea and the Philippines and worked in the private sector in Sydney, Australia. He holds an MBA from the University of New Castle is an Australian Chartered Accountant and holds a Bachelor of Economics from Macquarie University.
Bernard Sheahan is Director for Infrastructure and Natural Resources at IFC, a member of the World Bank Group. He is responsible for IFC's investments and global engagement in the power, transport, utilities, mining and oil and gas industries. Bernie has served as IFC Director of Strategy, with responsibility for the development of IFC's operational strategy and business plans, incorporating sustainability into IFC's activities and the development of the Equator Principles. Bernie holds a Bachelor's Degree from Dartmouth College and an MBA from Harvard University.
Jamie Isbister joined AusAID in January 2009 and has over 15 years of experience working in the humanitarian and development field. Jamie is currently the Minister Counsellor for Pretoria and prior to this was the Assistant Director General for the Africa and Middle East Branch of AusAID. He was also the Humanitarian Coordinator for the Australian Government between January 2009 and October 2010. He was the International Programs Director for Caritas Australia from 2001-2008. In 2004, he coordinated the initial assessment and response efforts of the Caritas International's network in Aceh following the Asian Tsunami. Jamie has worked for the Action by Church Together network and was the International Director for ACT – Australia from 1998-2001 and was a member of the ACT international executive from 1999-2001. In 1997, he was a member of the World Council of Churches delegation to the UN Commission on Human Rights. In the late 1990's Jamie worked in the Asia Pacific region particularly in Cambodia, Burma and Thailand on refugee policy and internally displaced issues.
The Department of Mines and Petroleum (DMP) will continue under the leadership of Director General Richard Sellers following his reappointment for another five years. The re-appointment, effective from 2 June 2014, was approved by Governor Malcolm McCusker following consultation with the Minister of Mines and Petroleum, Bill Marmion. Mr Sellers was first appointed to the department in June 2009. Before this he held the role of Executive Director of Minerals and Energy at the Department of Primary Industry, Fisheries and Mines in the Northern Territory. Since appointment, Mr Sellers has made ongoing contribution to the Western Australian public sector, and established DMP as WA's lead agency in attracting private investment in resources exploration and development.
Dr. Fraser Thompson is a senior fellow at the McKinsey Global Institute (MGI), McKinsey's business and economics research arm, based in London. His work focuses on sustainable development and natural resource economics globally, as well as productivity and growth issues in Europe, the Middle East, and Africa. Fraser joined the Middle East office of McKinsey in 2006, before moving in 2008 to London, where he was an engagement manager. As a consultant, he served mainly public sector clients on productivity and economic growth issues, including developing a foreign direct investment strategy for a European country, creating low-carbon growth strategies for two Indonesian provinces, and developing economic competitiveness strategies for a Middle Eastern country and an African country. He led work on "Resource revolution: Tracking global commodity markets", September 2013.
Sheila Khama has extensive work experience in both the private and public sector in Botswana and internationally. Sheila has 13 years of experience in the mining sector, starting as the compliance officer for up to 20 subsidiaries of the then Anglo American Corporation and De Beers Group in Botswana These companies covered the entire industry value chain and a range of minerals .including base metals fossil fuels and precious stones. In her most recent assignment in the sector she served as the Chief Executive of De Beers Botswana between July 2005 and March 2010. As the senior most executive of the Botswana's largest investor, she also served as a non-executive director of several companies including Debswana Diamond Company which contributes 60% De Beers' diamond stocks. She holds an MBA degree from the Edinburgh University Business School in Scotland and a BA from the University of Botswana.
Dr. Sipho Moyo joined The ONE Campaign in 2010 as Africa Director. She represents ONE's global work across Africa and helps mainstream the African perspective in ONE's policy stances. Prior to joining ONE, she had 18 years of development experience with the African Development Bank (AfDB), the UN, and the World Bank. Her last position was AfDB Resident Representative in Tanzania, where as Chair of the group of 14 general budget support (GBS) development partners, she led country-level Policy Dialogues between government and donors. Previous roles include Special Affiliate on President Bush's Blue-Ribbon Commission on Affordable Housing, and a Ryoichi Sasakawa Young Leaders' Fellowship. Dr. Moyo earned a PhD in Economics at Howard University in 1994. Sipho is a global citizen who has lived in 10 countries on three continents and has traveled to over 78 countries.
Gary McMahon is a senior mining specialist at the World Bank. He has worked on issues in the mining sector for over twenty years, particularly in the areas of local benefits, social and environmental impacts, and macroeconomic opportunities and risks. His most recent publication examines the socio-economic and human development impacts of mining since the turn of the century in mineral rich low and lower-middle income countries. Previously, he examined the history of mining sector technical assistance by the World Bank, 'World Bank Support for Mining Sector Reform: An Evolutionary Approach'. With a PhD in Economics from the University of Western Ontario, he has written extensively on development issues on a wide variety of subjects and has edited 9 volumes, ranging from the impacts of large mining operations on community development to the political economy of market reform in developing countries. He currently works on mining issues in Zimbabwe, Guinea-Bissau, Bolivia, Armenia, Romania, the Kyrgyz Republic, Tajikistan, and Kazakhstan.
Perrine Toledano is the Senior Economics Researcher of the Vale Columbia Center on Sustainable International Investment (VCC) ; she also leads the VCC's focus on Extractive Industries and Sustainable Development. In those capacities, she leads research, training and advisory projects on fiscal regimes, financial modeling, leveraging extractive industry investments in rail, port, telecommunications, water and energy infrastructure for broader development needs, local content, revenue management, and optimal legal provisions for development benefits. Prior to joining the VCC , she worked as a consultant for several non-profit organizations (World Bank, DFID, Revenue Watch Institute) and private sector companies (Natixis Corporate Investment Bank, Ernst and Young). Her experience includes auditing, financial analysis, IT for capital markets, public policy evaluation and cross-border project management. She has a Masters of Business Administration from ESSEC (Paris, France) and a Masters of Public Administration from Columbia University.
Dr. Joe Amoako-Tuffour is a Senior Advisor at the African Centre for Economic Transformation (ACET) in charge of the Extractives Resources Services unit. He is also the Program Country Specialist for Ghana and currently manages the development of ACET's Ghana and Liberia country advisory program in oil, gas and minerals sector. Prior to joining ACET, he served in different capacities as a researcher and policy advisor at the Ministry of Finance and Economic Planning (Ghana). In 2001-2003 he served as Senior Economist of the Mini-Consultative Group Secretariat in the Ministry, during which time he played the lead role in developing the framework of the Multi Donor Budget Support framework in Ghana. In 2004-05 he served as the Coordinator of the Economic Governance and Management Technical Team for the Ghana Africa Peer Review Mechanism. In 2008-2010 he was the Coordinator of the Oil and Gas Revenue Management Legislation Team and led a nation-wide survey of opinions and regional consultations on petroleum revenue management. The results formed the basis of the drafting of the Ghana Petroleum Revenue Management Bill. He holds a Ph.D. in Economics from the University of Alberta, Canada and received his B.A and M.A in Economics from Simon Fraser University, Canada. He joined ACET from St. Francis Xavier University (Canada) where he has been teaching since 1990. His current research interest is in taxation and the governance of extractive resources activities and resource revenue management. He is a member of the Oxford-based Natural Resource Charter Technical Advisory Group. He has published a book on Poverty Reduction Strategies in Action: Lessons and Perspectives from Ghana and has publications in the American Journal of Agricultural Economics, the Review of Economics and Statistics, Journal of African Economies, Journal of Applied Economics, Environmental Management, Tourism Economics, Journal of Environmental Management and Water Resources Research.
John Welborn is Managing Director and CEO of Equatorial Resources Limited, an ASX listed company developing iron ore projects in the Republic of Congo. Mr. Welborn is a former International Rugby Union player with more than 20 years' experience as a senior executive in corporate management, finance and investment banking, including various roles in the resources sector. Previously Head of Specialised Lending, Western Australia at Investec Bank (Australia) Ltd, Mr. Welborn is a Chartered Accountant with a Bachelor of Commerce degree from the University of Western Australia. Mr. Welborn holds memberships of the Institute of Chartered Accountants in Australia, the Financial Services Institute of Australasia, and the Australian Institute of Company Directors.
Mr. Ebrima Faal, a Gambian national, is Regional Director of the Southern African Region at the African Development Bank, where he is responsible for the Bank's strategy and operations throughout the region. With extensive experience in emerging markets and the developing world, Mr. Faal's responsibilities have focused on promoting the Bank's role as a reliable partner in finding development solutions for countries in the Southern Africa Region through dialogue, financial, knowledge, and technical assistance services. Mr. Faal joined the Bank in 2009 and has served in a range of capacities, including as Lead Economist for the Eastern and Southern Africa Regions of the Bank. Prior to joining the Bank, Mr. Faal worked at the International Monetary Fund (IMF) for 17 years, including as IMF Resident Representative in Guyana (1998-2002) and in the Pacific (2005-2008). Mr. Faal also served as Economic Adviser to the Minister of Finance in Guyana in 1997. Mr. Faal obtained a commerce degree from Mount Allison University (Canada) and did his masters and doctoral studies at McGill University in Canada.
Pierre Pozzo di Borgo has over twenty years of experience in Public Private Partnerships and Project Finance in Infrastructure, particularly in the Transport Sector worldwide. As Principal Investment Officer with the International Finance Corporation (IFC) Sub Saharan Africa division, Pierre provides technical leadership in the structuring of equity and debt financing for private sponsors' transport projects. Prior to joining the IFC in 2012, Pierre worked from 2003 onward as Lead Transport Specialist in the World Bank's Sub Saharan Transport Division where he managed Bank's loans in support of public financing in all transport subsectors, including led the Bank's support to Sub Saharan's rail concessions. Pierre holds an MBA from the University of Maryland and a Master in Aviation History from the Sorbonne University of Paris.
Glen Ireland is a partner in the Latham & Watkins LLC's Finance Department. He has a broad range of experience in the mining and metals industry, including advising on the development of early-stage mineral exploration projects, significant mergers, acquisitions and divestitures, initial public offerings and stock exchange listings, capital markets transactions, and mining project developments and financings. He is a regular speaker at mining industry conferences and teaches at the Centre for Energy, Petroleum and Mineral Law and Policy on mining agreements.
David Doepel is Chair of the Africa Research Group at Murdoch University and Chair of the Africa Australia Research Forum.He has held a number of positions in research management positions at Murdoch University including Deputy Vice Chancellor of Research and Development, Interim CEO of the National Centre of Excellence in Desalination, and Director, Research Institute for Resource Technology. Prior to that, he served in a variety of roles in the Western Australian Government including Principal Policy Advisor (Science and the Arts) to the then Premier Alan Carpenter and inaugural Regional Director for the Americas for the Western Australian Trade and Investment Office in Los Angeles. His current research interests include policy settings for structural transformation in an African context, the nexus between the extractive industries and the agricultural sector and farming system innovations.
Pietro Amico is currently the General Representative of Eramet in Gabon. Previously served as CEO and Executive Vice President of Erachem, involved in Manganese salts and oxides production and marketing for the battery, electronics, agrochemicals and specialties industries; hazardous wastes recycling activity. He has also served as President and Founder of European Battery recycling Association, and President of the Belgian Association for Progress of Management.
Prof. Kevin Chika Urama, B. Agric (First Class Honours); MSc (Distinction equiv. Nig.); MPhil (Distinction, Cambridge); Ph.D. (Cambridge) is an Agricultural/Resources/Environmental & Ecological Economist. He holds the 2002-3 James Claydon Prize for the most outstanding PhD thesis in Economics or related subjects, St. Edmund's College, University of Cambridge. He has received many awards and prizes for academic and leadership excellence at various scales. The most recent is the Technology Executive of the Year Award from the Africa Technology Awards, 2012. He is currently the Executive Director of the African Technology Policy Studies Network (ATPS) and the Inaugural President of the African Society for Ecological Economics (ASEE) – the African chapter of the International Society for Ecological Economics (ISEE). He is also an Extra-Ordinary Professor in the School of Public Leadership, Stellenbosch University, South Africa; and an Adjunct Professor at the Sir Walter Murdoch School of Public Policy and International Affairs, University of Murdoch, Western Australia. Prof. Urama serves on the boards of many international organisations, scientific panels and research programs, including: High-Level Panel on Global Assessment of Resources for Implementing the Strategic Plan for Biodiversity 2011-2020; the International Panel for Sustainable Resource Management (as Chair of the Water Working Group), the Intergovernmental Panel on Climate Change (IPCC) as Lead Author of the IPCC SRREN report, and a Coordinating Lead Author/Core Writing Team member on the IPCC AR5 report (in progress), the OECD Green Growth and Poverty Reduction Task Team, and the UNESCO Governing Board of the International Research and Training Centre for Science and Technology Strategy (CISTRAT), Beijing. He is the current chair of the Open Society Foundation's Africa Climate Change Adaptation Initiative (ACCAI) Reference Group, and member of the Technical Advisory Committee (TAC) for the Bio-resources Innovations Network for Eastern Africa Development. He is a member of the Editorial (Advisory) Boards of many international journals, including Science and Public Policy, Ecological Economics; and Environmental Policy and Governance, and has over 100 publications in various media.
Jonathan Hobbs is the International Director for the Extractives Sector at WWF (World wide Fund for Nature). His role is to lead and coordinate WWF's engagement in the sector. He has a global portfolio working out of Nairobi, Kenya. Previously he was WWF's Senior Advisor (Natural Resources Governance), based in Dar es Salaam, Tanzania. Before joining WWF he held posts at the UK's Department for International Development (DFID), The World Business Council for Sustainable Development (WBCSD), The United Nations Environment Programme (UNEP), Eskom (South Africa) and the Botswana Government. He has served on the EU's delegation to the Kimberley Process on Diamond Certification, the Management Committee of the Extractives Industries Transparency Initiative (EITI), the International Financial Institution's Environment Experts Group and the Boards of the Diamond Development Initiative and the Gorilla Organization (formerly Dian Fossey Trust). He also chaired several international committees including the OECD DAC's Network of Environmental Professionals (ENVIRONET), the Inter-Governmental Forum on Mining and Sustainable Development and the World Bank's Communities and Small scale Mining Initiative. He has contributed to several standards bodies including the Responsible Jewellery Council, the ISO Technical Committee that drafted the ISO 14000 international environmental management systems standards and the Professional Standards Committee of the International Environmental Management Association. He is an advisor to Dundee University's Centre of Energy, Petroleum and Mineral Law and visiting lecturer at several universities, Business Schools including the University of Oxford, Imperial College London and the University of Cape Town. He is an alumni member of Aberdeen University, the Prince of Wales's Business and Sustainability Programme (Cambridge University) and Nyenrode Business University's Sustainability Programme (Netherlands). Jon is a joint British and South Africa citizen.
May Hermanus is the Executive Director of the Natural Resources and Environment (NRE) research unit of The Council for Scientific and Industrial Research (CSIR). Hermanus will assume her new role at the CSIR from 4 June 2013. Hermanus is the Director and Adjunct-Professor at the Centre for Sustainability in Mining and Industry (CSMI) at Wits University where she is responsible for developing a centre of excellence for public education in the fields of occupational safety and health, the environment and sustainable development. Announcing the appointment, CSIR CEO, Dr Sibusiso Sibisi, said it was an honour for the CSIR to have a person of Hermanus calibre joining the organisation. "She brings with her vast knowledge and expertise from private and public sector which will add value to our business and also contribute to our mandate of using directed and particularly multidisciplinary research and technological innovation to better people's lives," he said. Hermanus holds a degree in geology from the University of Cape Town and an MSc in physical metallurgy. Over the past two decades of her career, Hermanus has been instrumental in advancing health and safety in mining, and integrating these concerns into the fields of environmental protection and broader sustainability across Africa. With a degree in geology from the University of Cape Town and an MSc in physical metallurgy from Wits University, she was an NGO volunteer before becoming the coordinator of the health and safety unit in the National Union of Mineworkers (NUM) in South Africa. This work also heralded the start of her involvement in various forums of the United Nations' International Labour Organisation. Her previous positions include serving as Chairperson of the Mine Health and Safety Council and the Chairperson of the Board of the Mining Qualifications Authority. She is a former deputy director-general of the Department of Minerals and Energy for mine safety and health, and a variety of other roles locally and internationally. Hermanus is a member of the Southern African Institute of Mining and Metallurgy and serves on the boards of the Aveng group, the Rail Safety Regulator, the Minerals and Mining Development Board of the Department of Mineral Resources, Sacred Heart College and is Chairperson of the Bokamoso Trust, the employee share option scheme of AngloGold.
Veronica Nyhan Jones is Strategic Community Investment and Extractives Sector Lead for IFC's Sustainable Business Advisory group. Veronica's team advises natural resource companies operating in emerging markets on how to value returns on sustainability investments, implement participatory planning processes, effectively communicate with stakeholders and manage risk via shared value development. She spearheads IFC's work on water and community concerns in the mining sector and lead the incubation of IFC's Financial Valuation Tool for Sustainability in Ghana, India and Mongolia. Prior to joining IFC, Veronica spent eight years with the World Bank as a community empowerment and social accountability specialist. She has worked for the International Youth Foundation, the White House, and the US Department for Health & Human Services on crime prevention and health care reform. Veronica has co-authored articles on valuing sustainability, strategic communications, water and communities, and measuring social capital using quantitative and qualitative methods. She holds degrees from Harvard University's Kennedy School and the University of Massachusetts Amherst.
Dr. Mekuria Beyene is a civil engineer with more than 26 years of professional experience in engineering hydrology and water resources systems engineering mainly in Europe and Africa. His major expertise comprises transboundary integrated water resources management, river basin modeling including flood impact analyses and information management systems for the water and energy sectors. Currently he works as Advisor for Transboundary Water Management at the NEPAD Planning and Coordinating Agency in South Africa.
Andrea Shaw is currently engaged as the Australian Department of Foreign Affairs and Trade's Mining for Development Specialist in Africa, based at the Australian High Commission in Pretoria, South Africa. She has worked as an organisational change consultant since the mid-80s and advises governments, businesses and unions on governance and organisational design and management, with a particular focus on the extractive industries. She has undertaken numerous scoping and design missions for the Australian aid program, developing proposals for projects dealing with mining sector governance in Liberia, Rwanda, Mozambique, Zambia, Nigeria, Ghana and South Africa. Previously, she prepared an organisational culture transformation strategy for the mining industry in the Republic of South Africa on behalf of South Africa's Mine Health and Safety Council. This Culture Transformation Framework now forms part of the Mining Charter, which all South African mining companies must implement as one of their mining license conditions.
Mr Emerson Zhou is the Executive Director the Beira Agricultural Growth Corridor (BAGC), a Public Private Partnership, which aims to promote investment in the agriculture sector in central Mozambique by facilitating entry by socially responsible investors who are willing to develop business models supporting smallholder farmers. Emerson is an Agricultural Economist with over 25years experience in managing "inclusive" agribusiness support initiatives in Africa. A recent initiative involves promoting linkages between the emergent coal mining sector and farmers within the Beira Corridor of Mozambique. He holds agricultural economics degrees from University of Zimbabwe (BSc) and University of London (MSc) as well as an advanced Diploma in Accounting and Finance.
Bryan Land is the World Bank's Extractive Industries Practice Leader for Africa, a role in which he will draw on 25 years of experience working on public policy issues surrounding the extractives sector. Bryan has spent the past five years in the Bank's Oil, Gas and Mining Unit managing government policy and capacity building projects in the Africa and East Asia and Pacific Regions. Prior to that he was Special Economic Adviser in the Commonwealth Secretariat whose clients included several African governments and he spent three years in Papua New Guinea in the then Department of Minerals and Energy. Bryan holds an MA in International Affairs from Columbia University and a LLM in Resources Law from the Centre for Energy and Minerals Law and Policy in Scotland.
Ricardo Saad started his career in a construction management company in Brazil, taking part in many industrial projects such as aluminum smelter, uranium beneficiation facility and thermal power generation. In 1986 he joined MRN - Mineração Rio do Norte, a bauxite production company, joint venture led by Vale. During 17 years he held several management positions in production and project implementation. Among various strategic initiatives, his last assignment at MRN was, as Project Manager, an expansion project that positioned the company as one of the three biggest bauxite operations in the world. Graduated in Electrical Engineering, Ricardo Saad started his career in a construction management company in Brazil, taking part in many industrial projects such as aluminum smelter, uranium beneficiation facility and thermal power generation. In 1986 he joined MRN - Mineração Rio do Norte, a bauxite production company, joint venture led by Vale. During 17 years he held several management positions in production and project implementation. Among various strategic initiatives, his last assignment at MRN was, as Project Manager, an expansion project that positioned the company as one of the three biggest bauxite operations in the world. In early 2003 Ricardo Saad was invited to join Vale's Aluminum Division as Project Director of Paragominas Bauxite Mine, a greenfield project with the first bauxite pipeline (244 km) in the world. He led the project from pre-feasibility up to start-up, including environmental licensing, community e public affairs, production teams' preparation and pre-operation phase. Concurrently, he led the project development of a new alumina refinery, during feasibility and environmental and social licensing. In January 2007, Ricardo Saad was assigned by Vale to join the Goro Project Management Team, in New Caledonia, where he has done a permanent technical and managerial support. In August 2008, he was assigned by Vale as Project Development Director of PT Inco, in Indonesia, to develop and implement various nickel projects and the construction of a hydropower plant. In 2009, he returned to the company's headquarters, in Rio de Janeiro, after being appointed as Project Implementation Director for the Aluminum, Copper, Nickel and Energy portfolio. With a significant track record of results and a successful career in the industry, Ricardo Saad was assigned, in 2010 by Vale to lead the Simandou Project, a greenfield iron ore mine in Guinea, with logistic operations in Liberia. In 2012, he has been appointed to lead the Project Implementation Department for Africa, Asia and Australia, based in Mozambique having as main projects in its portfolio: Moatize Coal Mine expansion; Nacala corridor (railway and port facilities), Vale Distribution center in Malaysia.
Frank Dixon Mugyenyi is a Senior Industry and Trade Advisor at the African Union Commission. Prior to joined the African Union Commission, Mr. Mugyenyi was employed by the United Nations Industrial Development Organisation, UNIDO and worked as the Industrial Technical Advisor and later by the United Nations International Trade Centre, ITC, as a Regional Technical Advisor for the CIDA funded Programme for Building African Capacity for Trade (PACT II) for the Common Market for Eastern and Southern Africa (COMESA). Mr. Mugyenyi also worked as the Executive Director of the Centre for African Development and had a stint at the Christian Aid (UK) as Executive Assistant to the Director. All in all Mr. Mugyenyi holds a Master of Science and a Bachelor of Science Degree fro the University of London, School of Oriental and African Studies (SOAS) and over 15 yers of experience in the Economics of African Development and Regional Integration.
Ian Satchwell is Director of the International Mining for Development Centre, a joint venture between The University of Western Australia and The University of Queensland, supported financially by the Australian Government. The Centre provides practical advisory, education and training services to developing nations across mining-related issues, including infrastructure planning and delivery. It is part of Australia's Mining for Development Initiative that seeks to help developing countries to develop sustainable mining and petroleum industries to underpin economic growth and reduce poverty. Ian has 28 years of experience in mining, infrastructure and development policy at national and international levels, operating at the business-government-community interface. He has held management roles in Australian-based economics consultancy firms, advising industry and government on a resources development issues. Previously, Ian was a manager within four different minerals and energy industry bodies.
Sven Lunsche is Vice-President, Corporate Affairs, at Gold Fields, where he is responsible, amongst others, for stakeholder relationships, internal and external communication as well as the Group's reporting requirements, which includes the Integrated Annual Report. He is also a representative of the company on the International Council of Mining & Metals, the World Gold Council and the South African Chamber of Mines. Prior to joining Gold Fields he was Corporate Communications Manager at ArcelorMittal South Africa. Before joining the corporate sector in 2008 Sven had spent over 20 years with leading newspapers and magazines in the country including the Sunday Times Business Times, of which he was editor, and the Financial Mail (deputy editor). He graduated with a Bachelor of Journalism from Rhodes University in Grahamstown in 1985.
Caroline Digby joined the University of the Witwatersrand, Johannesburg as the Director of the Centre for Sustainability in Mining and Industry (CSMI), in January 2014. She has worked in the field of mining, sustainability, education and regeneration for over twenty years and has broad international experience in working in partnership with industry, the academic sector and not-for profits. Prior to Wits, she was Sustainability Director at the Eden Project in the UK for nine years, where she also ran the Post-Mining Alliance – a team interested in promoting better practice in post-mining regeneration. She has held posts at the International Council on Mining and Metals, the International Institute for Environment and Development and consulting group CRU International.
Marit Kitaw currently works in the newly established African Minerals Development center in Addis Ababa, Ethiopia as Economic Affairs Officer, Minerals Sector Governance. She has worked extensively on mining issues, especially from the governance perspective for several years and has experience working in various organizations including UNECA, COMESA and AfDB in a number of countries including, Rwanda, Zambia, Tunisia, the United States and France. She has a Ph.D in Economics from the University of Nice-Sophia Antipolis, France.