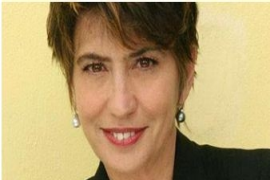 A Discussion of Gender-Based Violence With Italian Author and TV Host Serena Dandini
November 18-19, 2013
Washington, D.C.
Serena Dandini, a celebrated Italian television host and author, will speak about her book "Sisters Don't Sleep." The book is divided into two parts: a collection of true stories, told in the first person, of women killed after years of violence and abuse. The second presents research into various forms of violence against women, such as "honor killings," and other abuses.
EVENT DETAILS
When:

12:30-1:45 p.m.

Where:

MC C2-131, World Bank Headquarters

CONTACT:

Mame Niasse

mniasse@worldbank.org
In the foreward of her book, Serena Dandini (@SerenaDandini) writes: "I asked myself: 'What if the victims themselves could speak?...Women who were murdered simply because they were women, at the hands of men—their own men…They are wives and ex-wives, sisters and daughters, fiancées and former fiancées, who at some point refused to keep their side of the bargain, violating the rules set by society. Their rejections cost them their lives."
With

Mary Ellsberg

, Director

, Global Women's Institute (@GWUGlobalWomen) and Professor of Global Health at the George Washington University

Introduced by Piero Cipollone, Executive Director for Italy, Portugal, Greece, Albania, Malta, San Marino and Timor-Leste, The World Bank Group
Follow the conversation on Twitter with #endgbv