Download the latest Nepal Development Update here.
In FY2018, growth in Nepal remained strong at 6.3 percent despite less favorable monsoons and the easing of growth from the rebound following the 2015 earthquake. Continued strong activity in construction boosted private investment.Government activities and programs geared toward earthquake reconstruction and the establishment of offices at decentralized levels underpinned public investment. Private consumption was also a key driver of growth, financed by an uptick in remittances, in the last quarter of 2018. These trends coupled with record tourist arrivals, the reduction of load shedding, and an expansion of manufacturing capacity, all helped sustain growth. Inflation was 4 percent, anchored by the peg to the Indian rupee. Prices for non-food items grew at 5.5 percent, while food prices rose by 3.1 percent.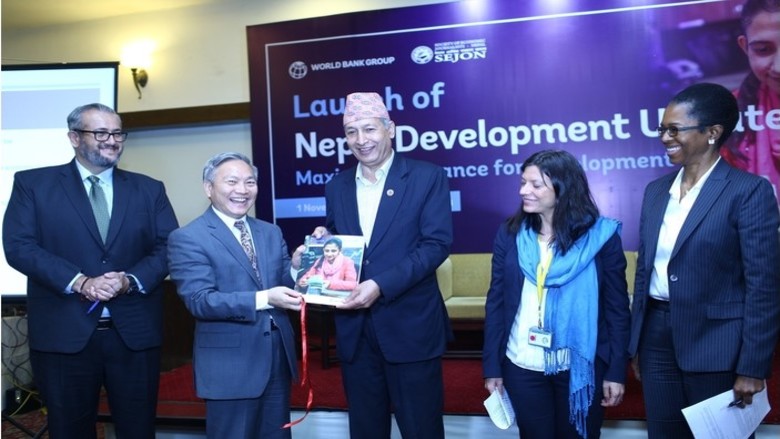 Special Focus
Nepal is poised to embrace a new development model for a "Prosperous Nepal, Happy Nepalese," by achieving faster growth to become a middle-income country by 2030. Growth rates of at least 7 to 8 percent will be imperative. To achieve these levels of growth, the government targets a 10-percentage-point increase in the investment rate by 2021. But, this can only happen with a shift from remittance-led and consumption-based growth to one that is investment and productivity driven.
Business as usual will not be sufficient to accelerate growth and achieve graduation to middle-income-country status by 2030. The GoN's new growth model aims for growth fueled by higher levels of investment, productivity, and effective public institutions to facilitate private sector dynamism, and will require reforms to (a)improve the competitiveness of the private sector and integrate with global markets; (b) strengthen the financial sector through development of long-term financing instruments; and (c)strengthen the framework for infrastructure finance, including PPPs.
Read the synopsis in our news release.
Download the latest report here.
Watch the event launch here.
Last Updated: Jan 14, 2019