BRIEF
Promoting Green and Inclusive Growth
December 11, 2013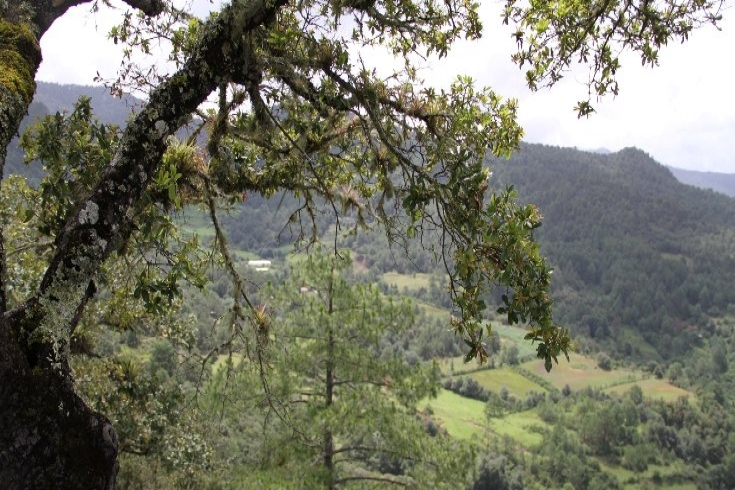 Mexico's significant natural resource capital, the high cost of environmental degradation, and the increasing risks posed by climate change highlight the importance of a green-growth agenda addressing critical policy concerns: the footprint of growth including urban planning, solid waste management, energy efficiency; and managing natural assets under pressure–focusing on forest, biodiversity, water management, and renewable energy.
Reducing the footprint of growth
The challenges:
Fast urban development has been inefficient and needs to be greener.
Costs of land and water degradation due to solid and liquid wastes have been increasing each year, impacting human health, the environment, and the economy.
Enhancing energy efficiency is a key element in promoting low carbon development for the country.
The World Bank has a robust program to support the reduction of the footprint of growth:
An ongoing project is supporting bus rapid transit solutions in cities and states, complemented by the Government's Programa de Transporte Masivo (PROTRAM), which provides technical support to the same target clients in the design of comprehensive urban transport plans. Funding from the Clean Technology Fund is supporting the acquisition of clean technology buses, enhancing the scope of the project not only to improve mobility but also to reduce greenhouse gas emissions.
A grant is supporting several Mexican cities in their efforts to clean air, and a carbon finance operation is supporting improvements to the Corredor Insurgentes Bus Rapid Transit system in Mexico City.
Another grant is providing state-of-the-art knowledge to Mexico City on initiatives to open data in transport and supply-side schemes to reduce trips in heavily congested areas of the city.

The World Bank foresees a rich program to support greenhouse gas emissions reduction.

The Bank is also building on a long partnership with the Government in the housing sector to support its current efforts to increase densities in urban areas. In particular, the Bank will be launching a programmatic approach that will include an urbanization review, a diagnostic of the main urban challenges in the country, and recommendations to inform a national urban policy.
The Bank has launched a diagnostic of key issues and players in solid waste management with the longer-term objective of supporting a national program. This program could help cities in the formulation of coherent and comprehensive strategies as well as specific projects and financing mechanisms to manage solid waste and contaminated sites. The goal is to cover the entire cycle from reduction, recycling, generation, collection, disposal, and possible transformation, using regional resources optimally.
The World Bank foresees a rich program to support greenhouse gas emissions reduction. The ongoing Efficient Lighting and Appliances Project successfully supports government programs to reduce emissions by increasing the use of energy-efficient technologies at the residential level. The Bank also supports some states in the preparation of action plans to improve efficiency in city buildings.
Four knowledge services are planned:
the preparation of National Appropriate Mitigation Actions on integrated urban mobility systems, refrigerators, and urban services;
the development of in-country capacity to design and implement projects capturing carbon dioxide from power generation and industrial installations and subsequent carbon capture and sequestration;
the implementation of strategies to reduce gas venting and flaring;
a political economy assessment of the impact of reducing or phasing out energy subsidies.
IFC's contribution to reduce the footprint of growth involves both advisory services and direct financing. IFC covers mainly the following areas:
solid waste management activities and waste to energy projects;
a programmatic green buildings initiative and support to development of sustainable construction projects that follow international codes for energy and water efficiency;
energy efficiency-related projects and companies; and
urban mobility. IFC is engaged in the state of Puebla providing transaction advisory support to develop bus rapid transport routes in the form of PPPs.
Using natural resources in an optimal way
The challenges:
Despite their strategic environmental and social role, forests are subject to high degradation in Mexico.
Per capita water availability has decreased by an alarming factor of four in the last 50 years. This situation is compounded by an inefficient use of water resources in agriculture as well as in urban services and exacerbated by the impact of climate change. Service quality is below OECD standards and cost recovery is extremely low.
The possibility of Mexico turning into a net oil importer poses the challenges of radically transforming the country's energy matrix composition. Key options lie in further using renewable energy sources; involving the private sector in financing investments in renewable energy; and exploring the potential to expand geothermal, solar, and wind power.
The WBG will continue supporting Mexico in these areas through a suite of financial, knowledge, and convening services.
The World Bank is supporting the improvement of efficiency in water utilities through financial and knowledge services.
In addition to an ongoing project in water-efficiency improvement, the Bank is preparing a water and sanitation project in the State of Oaxaca covering regulatory issues as well as improvement of the quality, and sustainability of water services in rural and urban areas. Technical support at the state level is an emerging area of interest. The Bank has prepared a comprehensive analysis of the water financing system, an important input to ensure the sustainability of water provision in years to come.
World Bank Group projects on wind and solar energy, and combined solar-thermal cycles have helped the Government of Mexico break ground on renewables and energy diversification. A new grant will help promote innovation in the development and implementation of clean energy technologies through Mexico's Sustainable Energy Fund.
IFC is also contributing to the optimal management of natural resources. IFC financed the first utility-scale photovoltaic solar project in Latin America and expects that its risk taking in renewable energy will further unlock the potential of Mexico's renewable power potential. Through its advisory and investment activities, IFC expects to strengthen its collaboration with the Mexican Infrastructure Fund to support municipal water operators in improving their operations and efficiency via PPP schemes. In forestry, the priorities are:
contributing to take pressure off natural forest for wood supply by supporting investment in commercial tree plantations;
increasing the sustainable use of already degraded land; and
supporting the expansion of certified forests.