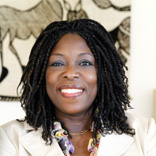 Zouera Youssoufou
World Bank Country Manager for Gabon, Equatorial Guinea and Sao Tome and Principe, Africa
Zouera Youssoufou is the World Bank Country Manager for Gabon, Equatorial Guinea and Sao Tome and Principe. As such, she is the front-line person in the relationship with all three governments, conducting day-to-day dialogue with all levels of government, civil society and donors. Ms Youssoufou is responsible for developing the country strategies for all three countries and oversees the implementation of World Bank projects in Gabon, Equatorial Guinea and SaoTome and Principe

Prior to joining the World Bank, Ms Youssoufou spent 5 ½ years at the International Finance Corporation (IFC), the private sector arm of the World Bank Group, where she led the Global Women in Business Program (WIN). In that role, Ms Youssoufou was in charge of creating opportunities for women entrepreneurs in the developing world, utilizing IFC's Investment and Advisory Services. Ms. Youssoufou developed IFC's Women's Access to Finance initiative and led IFC's first investment benefiting women entrepreneurs, which has now been mainstreamed as part of IFC's business.

Ms Youssoufou joined the World Bank Group in 2005 from Citigroup's Smith Barney unit in New York and Atlanta where she covered emerging markets and 13 industry sectors as an Equity Research Analyst. Her previous experiences include working with the European Union on private sector development issues – including capacity building and financing for entrepreneurs in Niger, and management consulting with Deloitte & Touche in Ghana. Ms. Youssoufou holds an MBA in Finance from New York University's Stern School of Business and a BBA in Business Administration from the University of Massachusetts' Isenberg School of Business. She is a seasoned financial services professional with experience in international development, investment management, and management consulting.