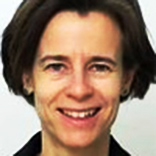 Vivien Foster
Sector Manager, Energy Department, The World Bank, Latin America & Caribbean
Vivien Foster is Sector Manager of the Energy Unit in the Sustainable Energy Department of the World Bank, which leads the Bank's thinking on issues around sustainable access to clean, efficient, reliable, and affordable energy for all citizens.

Prior to that she was Lead Economist in the Office of the Director for Sustainable Development in the Africa Region of the World Bank, where she was responsible for leading knowledge work across the infrastructure and energy sectors, and coordinated a major knowledge program known as the Africa Infrastructure Country Diagnostic. Her World Bank work has involved both analytical and advisory services, and design and supervision of projects, with a focus on the impacts of infrastructure reform and privatization on the poor. In addition to Africa, she has worked in the Bank's Latin America department.

Before joining the World Bank, she was a Managing Consultant of Oxford Economic Research Associates Ltd in the UK where she advised private and public sector clients in the water and energy industries, and worked with numerous Latin American governments on issues relating to water sector reform. She holds a Doctorate in Economics from University College London.