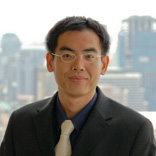 Sutayut Osornprasop
Human Development Specialist, Human Development Network
Sutayut Osornprasop
(known to colleagues and friends as "Tam") is a Human Development Specialist in the East Asia and the Pacific Region's Human Development Unit of the World Bank.
Based in Bangkok, Dr. Osornprasop is the Health Cluster Leader for
Thailand
. In the past, he has led and provided technical support in several countries in the region in areas of health development, including health financing, HIV prevention, health system strengthening, human resources in health, health governance, and decentralization and post-disaster damage and losses assessment of the
health sector
.
Dr. Osornprasop is widely known for his leadership in promoting HIV prevention and harm reduction among key affected populations, through projects and analytical work in the
Philippines
,
Malaysia
, Thailand, and
Vietnam
. His leadership and contribution to the
post-disaster damage and losses assessment of the health sector following Thailand's devastating flood in 2011
is well-recognized. He also contributed to the damage and losses assessment of the health sector following
Cyclone Nargis in Myanmar in 2008.
Dr. Osornprasop worked extensively on health financing and public expenditure review of the health sector. In Thailand, he co-authored
Public Financial Management Report on Government Spending and Central-Local Relations in Thailand's Health Sector
. He is also a member of the core team of the ongoing public expenditure review exercise in
Myanmar
.
His expertise on decentralization of the health sector is well recognized. In Thailand, he co-authored the
Decentralization of Health Sector and Hospital Autonomization
technical report. In addition, he was the team leader and primary author for the
Implementation and Completion and Results Report (ICR) of National Sector Support for Health Reform Project
, which supported the Philippines' decentralized health sector reform, among others.
Dr. Osornprasop holds an MPhil in International Relations and Ph.D. in International Studies from the University of Cambridge, through the prestigious Gates Cambridge Scholarship. He graduated with BA in Political Science with first-class honors from Chulalongkorn University.
AREAS OF EXPERTISE
Health
HIV and AIDS
Public Sector & Governance