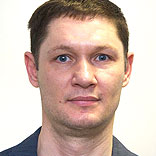 Sergey Ulatov
Economist, Poverty Reduction & Economic Management Network
Sergei Ulatov is a resident macroeconomist for the World Bank in Russia. He has more than 13 years of experience in macroeconomic analysis and applied microeconomic research and is responsible for ongoing monitoring of macroeconomic development in Russia, including analysis of monetary and fiscal policy, assessment of budget and balance of payment sustainability.
Sergei Ulatov is a co-author of the
Russian Economic Reports
(regular publication of the World Bank on recent economic developments in Russia).
His formal education includes MA in international economics from Krasnoyarsk State University, Russia; and MA in International Finance from the American University, Washington DC. Ulatov has done an extensive research on the 1998 crisis in Russia and post crisis development. He has contributed to several World Bank's policy notes and is a co-author of an article on Russia's 1998 crisis in Brookings Papers on Economic Activity.