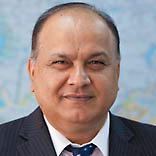 Saroj Kumar Jha
World Bank Regional Director for Central Asia, Europe and Central Asia
Saroj Kumar Jha is the World Bank Regional Director for Central Asia, based in Almaty, Kazakhstan.

Jha joined the World Bank's Central Asia Regional Office in Almaty in February 2012. Prior to this position, Jha worked as the World Bank's Global Manager for Disaster Risk Management Practice and served as head of the Global Facility for Disaster Reduction and Recovery (GFDRR), which he established in 2006 working with donors, governments, the United Nations and civil society organizations. It is now the world's largest global fund for disaster prevention and post-disaster recovery operations. In addition, he has led international response efforts to many global catastrophic disasters.

Jha, an Indian national, joined the World Bank in 2005 as a Senior Infrastructure Specialist in the Sustainable Development Network, after significant experience with the Government of India and the United Nation's Development Program (UNDP) as a senior executive in the field of public sector management, infrastructure financing, natural resources management, natural disaster prevention and environmental sustainability. He is credited for innovations in regional cooperation, social safety nets, and grievance redress mechanisms in various regions of the world.

Jha holds a dual degree in civil engineering and development economics from the Indian Institute of Technology (IIT) Kanpur, India.
AREAS OF EXPERTISE
DISRI_webtopics
Infrastructure
Global Economy
Urban Development