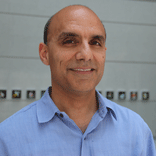 Sanjay Pahuja
Senior Water Resources Specialist, South Asia
Sanjay Pahuja works as senior water resources specialist with the World Bank's South Asia Environment, Water Resources and Climate Change Unit. Sanjay currently leads the World Bank-financed $1.5 billion
National Ganga River Basin Project
that supports India in its renewed efforts to clean the iconic Ganges. He was the primary author for a study on India's fast-depleting groundwater resources, which attracted attention to the world's first large-scale success in groundwater management by community collective action, in the hard-rock aquifers of India.
Since joining the World Bank in 2004, Sanjay has worked on a number of studies and operations in India, Afghanistan and Bangladesh. He work has dealt with issues related to water resources management and building water institutions, as well as creating opportunities and channels for promoting regional water cooperation on the rivers of the Greater Himalayas.
Sanjay received a doctorate in environmental sciences from Massachussetts Institute of Technology, and a diplome from Ecole Polytechnique Federale Lausanne. Prior to joining the World Bank, Sanjay worked extensively in North America and globally on water and environmental management projects, as a water resources expert with CH2M HILL based in the San Francisco Bay area.