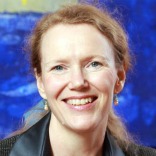 Penelope J. Brook
Country Director for Argentina, Uruguay and Paraguay, Latin America & Caribbean
World Bank Director for Argentina, Paraguay and Uruguay, based in Buenos Aires, Argentina.

Prior to her appointment in the Southern Cone, Ms. Brook is served between 2008 and 2009 as Director in the Vice Presidency of Private Sector Development and Finance, where she was responsible for the division that makes the business climate diagnostics.

She was also Advisor to the Vice President World Bank / IFC on issues related to Private sector Development and Finance (2006/08). Previously, she was Sector Manager for Energy issues in South Asia between 2002 and 2006.

Penelope Brook joined the World Bank Group in 1993 as a specialist in infrastructure, particularly in the sectors of water, sanitation and energy.

Throughout her career, Ms. Brook has specialized in transforming social policy programs and reform initiatives to better meet the needs of the poor, either through projects in the infrastructure area to extend access poor households, or by identifying reforms that encourage investment climate aimed at expanding business and employment opportunities to benefit a wider group of society, including women.

Before joining the World Bank Group, Ms. Brook worked in public and private institutions in New Zealand, specializing in the areas of infrastructure, financial system reform and public sector in the resolution of indigenous claims in relation to tenure land and natural resources.

Ms. Brook has a Masters in Economics from the University of Auckland, New Zealand, and a Ph.D. in Economics from the University of Oxford.




AREAS OF EXPERTISE
Financial Sector
Private Sector Development
Energy