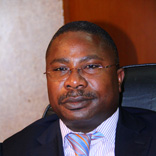 Nestor Coffi
Country Manager for Niger, Africa
Mr Coffi is the World Bank Country Manager for Niger since November 2010 where he manages 26 staff to run a very active Country Program of about 750 million USD complemented by large analytical and advisory services, leads the in-country dialogue and strategy formulation and implementation.

Mr Coffi joined the World Bank in 2002 and held several positions in the Financial Management sector. He lived and worked in many countries in the Africa region notably around the main rivers of the continent – Niger/Bamako, the Nile in Khartoum and the Congo River in Brazzaville – then back again to the Niger River in Niamey. Over his career in these challenging contexts, he has accumulated valuable experiences in Conflict-Affected Countries that are now his most cherished assets.

Before joining the World Bank, Mr Coffi served as Financial Manager of a French worldwide company and practiced audit as the Managing Director of an international audit firm. In that capacity he also served as Financial Advisor for the public sector as well as the private sector and was an active Board Member of the Institute of Chartered Accountant of Cote d'Ivoire.

Born in Cote d'Ivoire, Mr Coffi grew up in Bouake and Yamoussoukro where he completed his education before moving to Abidjan then Paris for specialization in Public Finances. He holds a French CPA – Diplome d'expertise Comptable - and a Public Financial Management Certificate from Intec (Paris).