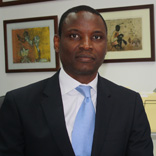 Moustapha Ndiaye
Country Manager for Uganda, AFC
Moustapha Ndiaye, 46, a Senegalese national, became the World Bank Country Manager for Uganda on January 2, 2012. With over 20 years of professional experience in the private sector and international development, Ndiaye's work has spanned more than 40 countries on three continents, providing a unique and exciting combination of experiences and skills at the corporate, country and sector levels.

Ndiaye joined the World Bank in 1998 as a Financial Management Specialist in the Senegal Country Office, before moving to Washington, D.C. office in 2002, where he served as a Senior Financial Management Specialist in the Operational Policy and Country Services Network Anchor in 2002. He later moved to the Latin America and Caribbean Region in 2004, where he became a Lead Financial Management Specialist in 2006.

Prior to his new assignment in Uganda, Ndiaye served as a Regional Manager, Financial Management, for Europe and Central Asia Region. In this capacity, he oversaw financial management aspects in operations financed by the World Bank as well as capacity building activities in the areas of both public and private sector financial management.

Before joining the Bank he worked as an Audit and Consulting Manager with Ernst and Young in Senegal from 1990 - 1998.

Ndiaye holds a Masters in Finance, Accountancy, Management and Audit and a Masters in Business Administration both from France; and is a Certified Public Accountant.

He is married to Aby Diop Ndiaye and they have three children.