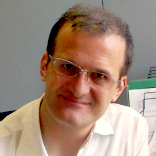 Michele Gragnolati
Program Leader Human Development, Latin America & Caribbean
Human Development Sector Manager for Argentina, Paraguay and Uruguay.

Michele Gragnolati joined the World Bank as a Young Professional in 1998 and since 2000, he served first as an economist with the Health sector in Latin America and Southeast Asia, and later as Sector Manager in the Human Development Unit Europe and Central Asia .

His last position was as Human Development Sector Manager in Brazil.

Economist graduated from Luigi Bocconi Commercial University(Italy), Gragnolati has also a Master's Degree in Population and Development from the London School of Economics (Great Britain) and a Ph.D. in Demography from the University of Princeton (USA).