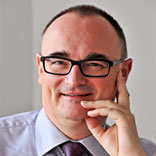 Markus Repnik
Country Manager Bulgaria, Czech Republic, and Slovakia;, Europe and Central Asia
Repnik joined the Bank in 2000 as a Senior Partnership Specialist in the Bank's Operations Policy and Country Services unit. From 2004 to 2007, he was the Country Manager for Cameroon and the Central African Republic. His experience led him to the Eastern Europe and Central Asia region in 2007 when he became the Country Manager for FYR
Macedonia. He has been in his current capacity since July 2010.
Between 1986 to 1994, Repnik worked as a management consultant and project manager for Austrian and German companies (both in the private sector and for NGO's,) including the Netzwerk Selbsthilfe Network, the Stattwerke Association, Association Calheta and the GFA Luso Group. From 1994 to 1999, he became the Country Manager for Cape Verde within the Austrian Ministry of Foreign Affairs' Austrian Development Cooperation. In parallel, he was Senior Operations Adviser for the Development Cooperation Department within the Austrian Ministry for Foreign Affairs from 1997 to March 2000.
Repnik's areas of expertise are in "green" growth and sustainable development; change management; program and project management for results and development effectiveness and partnership. He has country experience in: Austria, Brazil, Bulgaria, Cameroon, Cape Verde, Central African Republic, Czech Republic, Ethiopia, Gambia, Germany, FYR Macedonia, Mozambique, Niger, Senegal, Slovakia and in the United States.
Repnik has a Master's of Economics and Social Sciences with specialization in Organization Development and Strategic Management from the Innsbruck University, Austria.
He has completed more than 30 postgraduate trainings with a focus on management, institutional change and leadership; including: Harvard Business School Executive Development Program; Cambridge University Sustainable Development Leadership Program and the Carleton University IPDET International Program for Development Evaluation Training.
AREAS OF EXPERTISE
Aid Effectiveness
Climate Change
Environment & Natural Resources