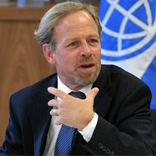 Mark R. Lundell
Sector Manager for the Sustainable Development Department (SD) for China and Mongolia
East Asia & Pacific
Languages:
English, Portuguese, Russian
Mr. Lundell is the Sector Manager for the Sustainable Development Department (SD) for China and Mongolia as of May 2, 2012. In this capacity he oversees the SD country programs and portfolio management, leads business development and the promotion of multi-sectoral SD programs, integrates Bank-wide staff into the China and Mongolia programs, and ensures that knowledge from the China and Mongolia programs are fed back into other programs across the Bank.
Prior to this assignment he served from 2006-2012 as the Sector Leader for Brazil for Sustainable Development. His areas of responsibility there included agricultural and rural development, social development, water resources and environment, energy, climate change, and carbon finance. Prior to his service in Brazil, Mr. Lundell worked in the Europe and Central Asia (ECA) region of the Bank (1993-2006). As the Lead Agricultural Economist in the ECA Environmentally and Socially Sustainable Development Department, his primary areas of responsibility were economic and sector analytic work and rural development and natural resource management operations.
Mr. Lundell's research has covered reports on rural transformation and farm restructuring, agricultural sector subsidization, policy and investment priorities for rural development, rural finance, sustainable natural resource management, environmental licensing, land administration, renewable energy, biofuels, and low carbon development. In the operational area, his experience has spanned the areas of agricultural policy adjustment and knowledge management, agribusiness and rural entrepreneurship, rural finance and social services, community driven development and rural infrastructure, title registration and land administration, SMEs, environmental and water resources management, energy and mining, climate change, and carbon finance.
Mr. Lundell has a Ph.D. in Agricultural Economics (University of California – Berkeley) and a Bachelors of Science in Economics (Georgetown University).
AREAS OF EXPERTISE
Agriculture & Rural Development
Social Development
Water
Energy & Mining
Climate Change
CONTACT INFORMATION
Phone : 86-10-58617760