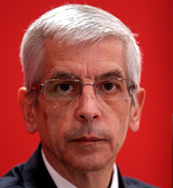 Loup J. Brefort
Country Manager, Serbia Europe and Central Asia, Europe and Central Asia
Based in Belgrade since 2010, Brefort joined the Bank's Europe and Central Asia (ECA) region in 2002 as Lead Advisor for Energy and Infrastructure in Kazakhstan, where he then became Country Manager in 2003. Between 2006 and 2010 he was the World Bank Country Manager in Uzbekistan.

Before coming to the ECA region, Brefort was Senior Manager of the joint World Bank – IFC Private Sector Development unit in the East Asia and Pacific Region, based in Washington, DC. At the World Bank since 1990, Brefort has focused on private sector development, state-owned enterprise reform, and privatization and infrastructure investment issues, especially in the power and water sectors.

He has worked on projects in Northern and Southern Africa, Russia and Central Asia, and in several countries of East Asia, most notably China and Vietnam.

Prior to joining the World Bank in October 1990, Mr. Brefort managed the International Management Consulting Department of Coopers and Lybrand, Europe, based in Brussels. He also worked for more than 12 years for private sector companies in the industrial, infrastructure and services sectors in Canada and Europe, and for two years managed the reorganization and financial restructuring of one of the largest copper and cobalt mining companies in Africa.

Brefort graduated from the Ecole des Hautes Etudes Commerciales (HEC) in Paris and holds and MBA from McGill University in Canada.



AREAS OF EXPERTISE
Aid Effectiveness
Energy
Infrastructure
Financial Sector
Public Sector & Governance