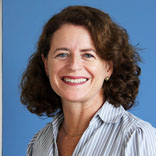 Livia M. Benavides
Country Operations Adviser, Latin America & Caribbean
As Country Operations Adviser is responsible for strategic development planning and monitoring the quality of the portfolio. She also is the Andean focal point for governance and anti corruption issues.

She joined the World Bank in 1994 as a consultant in Country Department, Environment & Urban Development issues. Since then, she has work in different positions including Senior Social Sector Specialist. She has worked mainly in Peru, where she participated in the preparation and supervision of projects in the health, education and social protection sectors.

Before joining the World Bank, she worked for the Pan-American Health Organization – Pan-American Center for Sanitary and Environmental Engineering, as an Environmental Health Specialist and as an independent consultant for various international organizations. Her areas of interest include monitoring and evaluation of development sector policies and programs.

Livia Benavides holds a B.Sc. with a major in Chemistry from Trinity College, an M. Sc. from the Massachusetts Institute of Technology and a Post Graduate Diploma in Economics from the University of London.

She has also published on a wide range of topics such as economics, health, education, social protection and environmental issues.


AREAS OF EXPERTISE
Social Development
Anti-Corruption
Education
Health