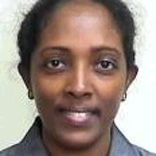 Kundhavi Kadiresan
Country Director for Malawi, Zambia and Zimbabwe, AFC
Kundhavi Kadiresan, an Indian national, joined the Bank in 1993. She was appointed Country Director for Malawi, Zambia and Zimbabwe in June, 2011. Based in Lusaka, she is responsible for leading the Bank's work and collaboration with client governments as well as with other stakeholders to deliver innovative country programs for sustainable results.

Kadiresan is also responsible for providing leadership in dialogue, analytical work and partnership to leverage effective developmental assistance and lead country teams to implement the priorities of the new Africa Strategy. She oversees a project portfolio of more than $1.2 billion International Development Association (IDA) commitment for Malawi and Zambia and significant Trust-Funded activities in Zimbabwe.

Kadiresan holds a Ph.D. in Economics from Madurai Kamaraj University, a Master of Business Administration in International Business from George Washington University, and a Master of Arts in Economics from Fatima College.