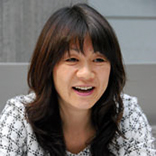 Keiko Miwa
Country Manager
East Asia and Pacific
Languages:
English, Japanese, Bangla, French
Keiko Miwa, a Japanese national, is the World Bank's Country Manager for Lao PDR. She has been overseeing policy dialogue and a vast portfolio of over US$300 million in Lao PDR since August 2010.
Ms. Miwa first joined the World Bank as a Summer Intern in 1997 at the South Asia Human Development Department and, subsequently, at the Bangladesh Country Office in 1999. She was then selected as Young Professional and Education Economist in the Africa Human Development Department in 2000.
Ms. Miwa was based in Lao PDR from 2001 to 2002 to work on the preparation of the Nam Thuen 2 project. She moved to Afghanistan and was one of the first international staff to be relocated to design and lead the World Bank's education program, from 2002 to 2005. She then joined the Europe and Central Asia Region as Senior Education Economist, leading analytical work, policy advice and project work in the education sector in Kosovo and Albania.
From 2008 to 2010, Ms. Miwa served as Assistant to President Robert Zoellick in the Office of the President, coordinating his work in Africa, Middle East and North Africa, Poverty Reduction and Economic Management, Human Development, Development Economics, and the World Bank Institute, among others.
Prior to joining the Bank, Ms. Miwa worked as a Programme Officer for UNICEF Maldives and UNICEF Bangladesh, and as Education Expert in JICA. She has published articles in the International Journal of Educational Development and World Bank working papers.
Ms. Miwa holds a Ph.D. in Educational Policy Studies from the State University of New York at Albany.

CONTACT INFORMATION
Phone : (+856-21) 450-010