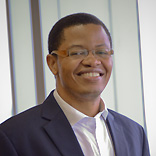 Khwima Nthara
Senior Economist, Poverty Reduction & Economic Management Network
Khwima Nthara, a Malawian national, is the World Bank's Senior Country Economist for Myanmar. Currently based in Bangkok, Thailand, he is part of the Poverty Reduction and Economic Management (PREM) department.

Mr. Nthara is the World Bank's focal point on Myanmar's economic issues and works closely with government partners and other key stakeholders. His main responsibilities include monitoring economic developments and contributing to the World Bank's support to Myanmar's development efforts. This includes being involved in analytical work, policy advice and transfer of knowledge on best practices, technical assistance, and financial support programs.

Mr. Nthara joined the Bank in 2005 and had held similar positions in Malawi (2005-2009) and Nigeria (2009-2012). He led the largest debt relief program in the country's history and two budget support programs while in Malawi. His work in Nigeria involved leading the World Bank's second budget support program in Africa at a sub-national level,a large public expenditure management support program, and a technical assistance program to the Federal Inland Revenue Service.

Prior to joining the Bank, Mr. Nthara was an economics lecturer at the University of Malawi, a consultant to several organizations, and also held various public appointments.

Mr. Nthara graduated from the University of Cambridge in the United Kingdom with degrees on the Economics of Developing Countries (M.Phil) and Economics (Ph.D).
AREAS OF EXPERTISE
Public Sector & Governance
Trade
Poverty
Debt