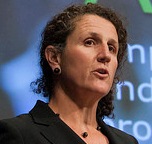 Jeni Klugman
Senior Adviser, Gender
Jeni Klugman is a senior adviser at the World Bank and a fellow at the Harvard Kennedy School's Women and Public Policy Program. She currently serves on the World Economic Forum's Global Advisory Council on Benchmarking Progress and Advisory Board on Sustainability and Competitiveness.

Previously, Klugman was director of Gender & Development at the World Bank Group, where she served as lead spokesperson on gender equality issues, and was responsible for developing strategic directions to support the institution's gender and development priorities.

Klugman has published a number of books, papers and reports on topics ranging from poverty reduction strategies and labor markets to conflict, health reform, education and decentralization. She holds a Ph.D. in Economics from the Australian National University, as well as postgraduate degrees in Law and Development Economics from Oxford University, where she was a Rhodes Scholar.
AREAS OF EXPERTISE
Gender
Poverty
Global Economy
Conflict
Health