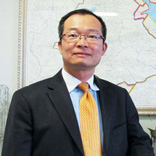 Guang Z. Chen
Country Director for Ethiopia, AFC
Guang is currently the World Bank's Country Director for Ethiopia, a position he holds since 2011.
Trained as a development economist, Mr. Chen has over 20 years of international experience in the field of development finance and infrastructure management. Based in Addis Ababa, he is responsible for building a strong partnership with the client government and its development partners to develop and implement the World Bank's country partnership strategy for Ethiopia, with particular focus on sustainable growth, job creation and effective service delivery in supporting the implementation of the Government's Growth and Transformation Plan.
He also oversees the implementation of a portfolio of investment and trust fund projects valued at over $6 billion covering a range of sectors from agriculture, social protection to infrastructure, as well as knowledge services and technical assistance programs. During fiscal year 2013 and 2014, the World Bank's program in Ethiopia has continued to set records in disbursement and new lending, and has ventured into the new area of supporting the development of Ethiopia's industrialization program and trade logistics improvement. Prior to this assignment, he served as a Sector Manager in the Sustainable Development Department of Latin American Region and South Asia Region for 10 years, covering a range of sectors including transport, urban development, water supply and sanitation, disaster risk management. In that capacity, he managed teams of sector specialists in the appraisal and delivery of quality lending projects as well as the provision of implementation support and advisory services to the country clients. Moving through the rank in the World Bank prior to becoming a sector manager, he had worked as a program team leader and as a task manager leading tasks for lending, supervision, and economic sector work and technical assistance activities. Before joining the World Bank, Mr. Chen served as a project economist in the Asian Development Bank for over 5 years. Mr. Chen obtained his bachelor degree in Economics from Sun Yat-Sen University in China and a graduate degree in Economics from Harvard University.
AREAS OF EXPERTISE
Global Economy
Infrastructure
Financial Sector