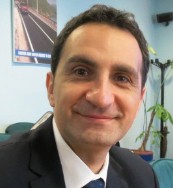 Goran Tinjic
Senior Operations Officer, South East Europe Country Unit in Bosnia and Herzegovina, Europe and Central Asia
Goran Tinjic coauthored the last two Country Partnership Strategies for Bosnia and Herzegovina, and is responsible for oversight of performance of the World Bank's portfolio in the country. He also contributes to the Bank financed operations in the area of social protection, and employment services, and is the focal point for the country dialogue, and donor coordination.

Goran joined the Bank in 1996, and had since contributed to a number of Bank financed operations in Bosnia and Herzegovina. He led the Bank team which implemented the microfinance operation which was recognized as international best practice in supporting development of a sustainable microfinance industry.

Occasionally, he is a guest lecturer at Sarajevo University's School of Economics, and Sarajevo University's School of Philosophy, and regularly presents the World Bank operations, achievements and challenges to visiting student groups.

Goran holds a Master's Degree in Public Policy and Management from the School of Oriental and African Studies' Center for Financial Management Studies – University of London, and a Bachelor's Degree in Politics and International Relations from the London School of Economics – University of London.
AREAS OF EXPERTISE
Aid Effectiveness
Public Sector & Governance
Financial Sector