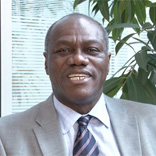 Eustache Ouayoro
Country Director for the DRC and the Republic of the Congo, AFC
Prior to assuming the position of Country Director for the DRC and the Republic of Congo, Mr. Eustache Ouayoro was an Advisor in the World Bank's Operations Services Department of the Latin America and Caribbean Region.

Mr. Ouayoro joined the World Bank in 1990 as a Project Officer in the UNDP-World Bank Water and Sanitation Program. He has since held a number of positions including Sector Manager for Water, Sanitation, and Urban Development in West and Central Africa, and World Bank Country Manager for Haiti. His successful management of development interventions in West and Central Africa, including in the DRC and other post-conflict countries, has earned him a solid reputation within the World Bank. More recently, he successfully contributed to the implementation of the expanded program, in relation to the increase in funding for the World Bank-financed Haiti action plan.

An Ivorian national, Mr. Ouayoro is a civil and sanitation engineer.