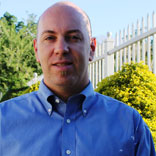 Erik Johnson
Senior Operations Officer in the East Asia and Pacific Region's Sustainable Development, East Asia and Pacific
Erik Johnson is Senior Operations Officer in the East Asia and Pacific Region's Sustainable Development Network. He began this position in November 2009 in Port Moresby, Papua New Guinea, and moved to Honiara, Solomon Islands in November 2011. Currently, he is also Acting Country Representative for the Solomon Islands.

He is task manager for three operations, two in Papua New Guinea and one in Solomon Islands. The Papua New Guinea projects include a project which aims to strengthen the role in women in community development in post-conflict Bougainville, as well as a project which aims to improve rural service delivery by encouraging community-driven approaches and building the capacity of local government. The Solomon Islands project is building community infrastructure and expanding the services of the Ministry of Agriculture and Livestock in eight of nine provinces.

Johnson, first joined the Bank in 1999. Before moving to the Pacific, Johnson worked in the Fragile and Conflict-affected States Unit, managing the multi-donor State and Peace-building Fund, leading staff learning on working in fragile and conflict-affected states and providing strategic and operational support to country teams including Somalia, Sudan, Thailand, Kosovo, and Georgia. Prior to his focus on fragility and conflict, Johnson worked in the World Bank Institute, largely in support of the "Knowledge Bank" corporate agenda, and also in cultivating knowledge networks and ICT capacity in Europe and Central Asia, Middle East and North Africa, East Asia and Pacific and Sub-Saharan Africa.

Previous to joining the Bank, he worked for a variety of NGOs, focusing mainly on the development of democratic institutions and private enterprise in the rapidly transitioning countries of Eastern Europe. He holds a Masters of Public and International Affairs from the University of Pittsburgh.
AREAS OF EXPERTISE
Agriculture & Rural Development
Conflict
Global Economy