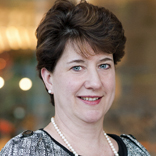 Deborah Wetzel
Country Director for Brazil
Deborah Wetzel, a U.S. national with more than 25 years of experience in development work around the world, is the World Bank Director for Brazil from April 2012.

Mrs. Wetzel was the World Bank Group's Chief of Staff in Washington. Previously, she served as Director for Governance and Public Sector in the Poverty Reduction and Economic Management (PREM) Network, directing the Bank's work on taxation, public expenditures, decentralization, public sector reform and strengthening, governance and anti-corruption.

From 2006 to 2009, she was Lead Economist and PREM Sector Leader for the Latin America and the Caribbean Region, based in Brasilia. During that period she developed numerous programs with state and federal governments to help improve the effectiveness of public expenditures and achieve better results.

Mrs. Wetzel began her career at the World Bank in 1986 as a Consultant, joining the Young Professionals Program in 1993. During her career, she has also worked in Central and Eastern Europe, Ghana, Hungary, Ukraine, Vietnam, Russia, the former Soviet Republics, West Africa and Zambia.

Mrs. Wetzel has a Ph.D. in Economics from the University of Oxford and a Masters in International Studies from Johns Hopkins University, School of Advanced International Studies. She is the author of publications on fiscal decentralization, public finance, governance, and sub-national affairs.

She is the first woman to lead the World Bank's program in Brazil.
AREAS OF EXPERTISE
Poverty
Public Sector & Governance