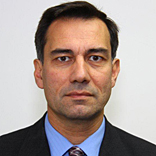 Christos Kostopoulos
Lead Economist for Central Asia, Europe and Central Asia
Christos Kostopoulos is the World Bank Lead Economist in Central Asia. He is based in Almaty. Christos joined the Central Asia team after working for two years in the Operations and Core Services Department supporting the World Bank's own Change process and helping to launch the Science of Delivery agenda. Prior to that, he was in the Europe and Central Asia (ECA) Region working as Senior Country Economist for Azerbaijan.

He has an interest in natural resource economics and in the Caucasus and Central Asia. Before working in ECA, Christos worked for a range of countries based in the World Bank's Madagascar Country Office. He has also worked in the Latin America and Caribbean Region.

Christos speaks Greek, English, and French. He holds a Ph.D. in Economics from the University of Maryland, USA.


AREAS OF EXPERTISE
Global Economy
Poverty
Public Sector & Governance
Financial Sector
Social Development