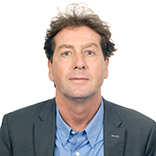 Christophe Crepin
Sector Leader, Social, Environmental and Rural Development unit, East Asia and Pacific region, The World Bank, East Asia and Pacific
Christophe Crepin is the sector leader for environment and climate change in the social, environmental and rural development unit in the East Asia and Pacific region of the World Bank.

A native of France, Crepin has led and overseen environmental and climate policy dialogue in a large number of countries as well as divers lending operations and advisory services in environmental management and climate change. On climate change, his areas of expertise are climate policy and institute, and climate finance.

Crepin has been with the World Bank for more than 15 years and prior to his current position, he was the lead environment specialist in the same unit. He has also held several positions in the Africa region of the World Bank including program manager and senior regional coordinator.

Before joining the Bank, Crepin was a program manager at the French Development Agency. He started as a program leader and regional coordinator at the International Center for Research and Development.

Crepin holds a Ph.D in veterinary science from the Universite Pantheon-Sorbonne in Paris as well as a degree in public policy and economics, majoring in development economics, from the Institut d'Etudes Politiques in Paris.