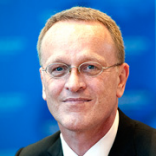 Bert Hofman
Chief Economist for East Asia and Pacific and Director of the World Bank Group Singapore Office, East Asia and Pacific
Mr. Hofman is the World Bank's Chief Economist for the East Asia and Pacific Region and Director, Singapore Office. Before moving to Singapore in 2011, Mr. Hofman was the Country Director for the Philippines, responsible for a growing portfolio of projects and advisory services to the Philippines government.
Mr. Hofman has accumulated 22 years of experience in the World Bank, 16 of which in the East Asia region. Mr. Hofman was Lead Economist China where he headed a team that provided economic policy advice to the government. Prior to that, Mr. Hofman had spent more than five years in Indonesia as it was recovering from the Asian Crisis. He had also worked on Brazil, South Africa, Mongolia, Zambia, and Namibia in his earlier years with the Bank.
Prior to joining the World Bank, Mr. Hofman worked at the Kiel Institute of World Economics in Germany, the Organization for Economic Cooperation and Development (OECD) in Paris, and NMB Bank in the Netherlands (now ING).