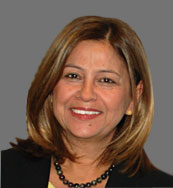 Anabela Abreu
Country Manager, Bosnia and Herzegovina, Montenegro, Europe and Central Asia
Anabela Abreu, a Portuguese national, joined the World Bank's Europe and Central Asia (ECA) region in September 2011 as the Country Manager for Bosnia and Herzegovina (BiH) and Montenegro (MNE). Abreu is based in the World Bank's office in Sarajevo.

Abreu is currently responsible for leading the policy dialogue on a broad range of issues, and for the management of the World Bank's program and activities in BiH and MNE.

Prior to this position, Abreu was the Country Manager in Guatemala where she led the policy dialogue, and the governance agenda, which included a variety of innovative structural and sectoral interventions, such as the Construction Sector Transparency.

Throughout her career of more than 20 years, 17 were dedicated to development in more than 15 countries (e.g. Argentina, Brazil, Venezuela, Angola, Mozambique, S. Tome & Prince, India, Pakistan, Afghanistan, Bangladesh, Nepal).

Before joining the World Bank in 1994, Abreu was an Assistant Professor at the University of Lisbon and Deputy Director of the Lisbon Institute of Hygiene and Tropical Medicine. Abreu also consulted for several international organizations and worked as a physician in Lisbon.

Abreu holds a Dr. P.H. in Health Services Administration from the University of Pittsburgh; a post graduate degree in Public Health and Tropical Medicine; and a graduate degree in medicine from the University of Lisbon.