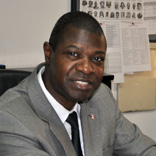 Adama Coulibaly
Country Manager, Africa
As of September 2013, Adama Coulibaly holds the position of World Bank Representative for Chad. An Ivorian national, he joined the Bank in 2003 as an Operations Officer in MNA Technical Cooperation Department. Since then, he assumed several responsibilities as Coordinator of the Technical Cooperation Program with Saudi Arabia, and later became the Bank Representative in Riyadh, Saudi Arabia. In his most recent assignment as Sr. Operations Officer, he managed MNA Reimbursable Assistance Services Partnership activities with Arab National Funds and Financial Institutions for Development.

Over the course of his career, he gained considerable experience in managing operations and relations with development partners and country officials and has also taught economics, statistics, and quantitative analysis at Howard University in Washington, D.C.

Adama Coulibaly holds graduate degrees in economics from both Abidjan University (in Côte d'Ivoire) and Howard University in Washington, D.C. He also has a doctorate in development economics from Howard University.