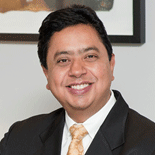 Sanjay Pradhan
Vice President for Change, Leadership and Innovation
Sanjay Pradhan leads the overall coordination of the internal reform process, and spearheads the leadership, learning and innovation for development agenda of the World Bank Group. He is also a member of the President's Senior Management Team.
Previously, Mr. Pradhan was the Vice President leading the
World Bank Institute
where he championed an open development approach centered around knowledge, learning, collaboration and innovation. Mr. Pradhan is a recognized authority on governance and anticorruption issues. He served as the World Bank's Director for Governance, where he led the development of the Bank's Governance and Anticorruption Strategy, and provided strategic directions on improving governance and combating corruption.
Prior to that, Mr. Pradhan has a distinguished research record with extensive experience working in developing countries in South Asia, Europe and Central Asia, and East and West Africa. He has authored numerous publications including being a principal author of the 1997 World Development Report, The State in a Changing World. He has addressed major high-level forums including the European Parliament, the British House of Commons, the BBC World Debate, and the TED Global Conference.
Mr. Pradhan holds a PhD and a Bachelor's degree from Harvard University.